In the years since Titanfall 2's initial release, the game has been dealing with so many hacks and hoaxes that it felt like EA and developer Respawn have seemingly abandoned the game; that seemed to be the case until recently as a "janitor" has seemingly cleaned up the mess, via Reddit post roundup.
The 2016 title received a massive update on PC that addressed matchmaking issues plaguing the game but is now stable, making Titanfall 2's matchmaking fully playable again. It doesn't stop there, as the game's previously beta-restricted private match feature is now playable for all public players. Titanfall 2 also received some welcome bug fixes to some maps, glitches and out-of-bound exploits.
It's not all about just fixes but also additions, as the PC update also brings back some returning game modes alongside some new ones in a rotating playlist that is constantly updating well after the update first went live. One last edition as a part of the update is that Titanfall 2 got some new weapon additions in the game's 1v1 Colloseum game mode.
It feels like Titanfall 2 on PC received one of the biggest resurgences in a long time thanks to this update, and an ongoing 90 percent off sale on Steam (that ends today) increased the player base in a big way. This intelligent play led the game to peak at 23,234 concurrent players over the weekend and is currently in the top 100 popular games list.
This is just pure speculation, but for longtime Titanfall players, it might not end there, as we got a possible tease that more Titanfall could be coming. In Apex Legends' recent patch notes, the text features a Nessie Transmission alongside three codes which, according to IGN, all correspond to the Unix timestamp release dates of the three Titanfall universe games in the first Titanfall games and Appex Legends.
This news is in addition to a new game mode being teased to players on the main menu. The description says, "Your rockets will blow out the sun," an homage to Zack Snyder's 300.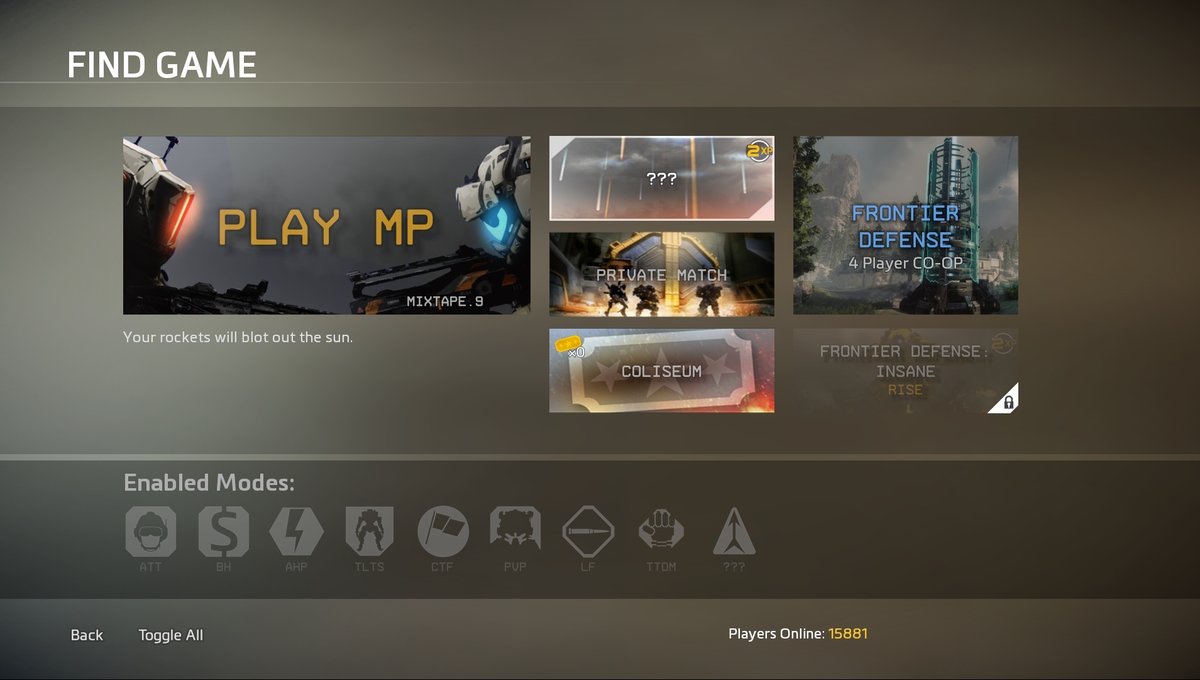 With Titanfall 2's seventh anniversary on October 26 happening the same week of the Apex Legends' upcoming October season ending on Halloween, do Titanfall fans even dare to dream of a possible announcement of a valid third entry, especially with the franchise's 10th anniversary around the corner. It remains to be seen what Respawn has cooking in the Titanfall universe, but EA seems to have a lot of praise for the developer that doing something "for the fans" is one possibility. Then again, it's EA, so I'll take it back if it doesn't happen.