With a few weeks until Theatrhythm Final Bar Line launches on PlayStation 4 and Nintendo Switch, Square Enix is offering a demo tomorrow for those on the fence.
The meaty demo will feature 30 songs in total and progress is confirmed to carry over to the full game, making it easier to become invested this week!
In terms of what tracks are available, the demo features a solid mix of familiar songs across three modes including Battle Music Stage, Field Music Stage, or Event Music Stage. The three types of Music Stages are as follows — Battle Music Stages see you defeating waves of enemies in time to tempo battle themes, Field Music Stages see your journey out with your party across landscapes with relaxing field music, and Event Music Stages see you revisit unforgettable scenes from the entire franchise.
The full game will include Series Quests, revisiting 29 past titles through their music while unlocking more tracks and characters, Multi Battle mode, the Museum, and more!
Theatrhythm Final Bar Line demo tracklist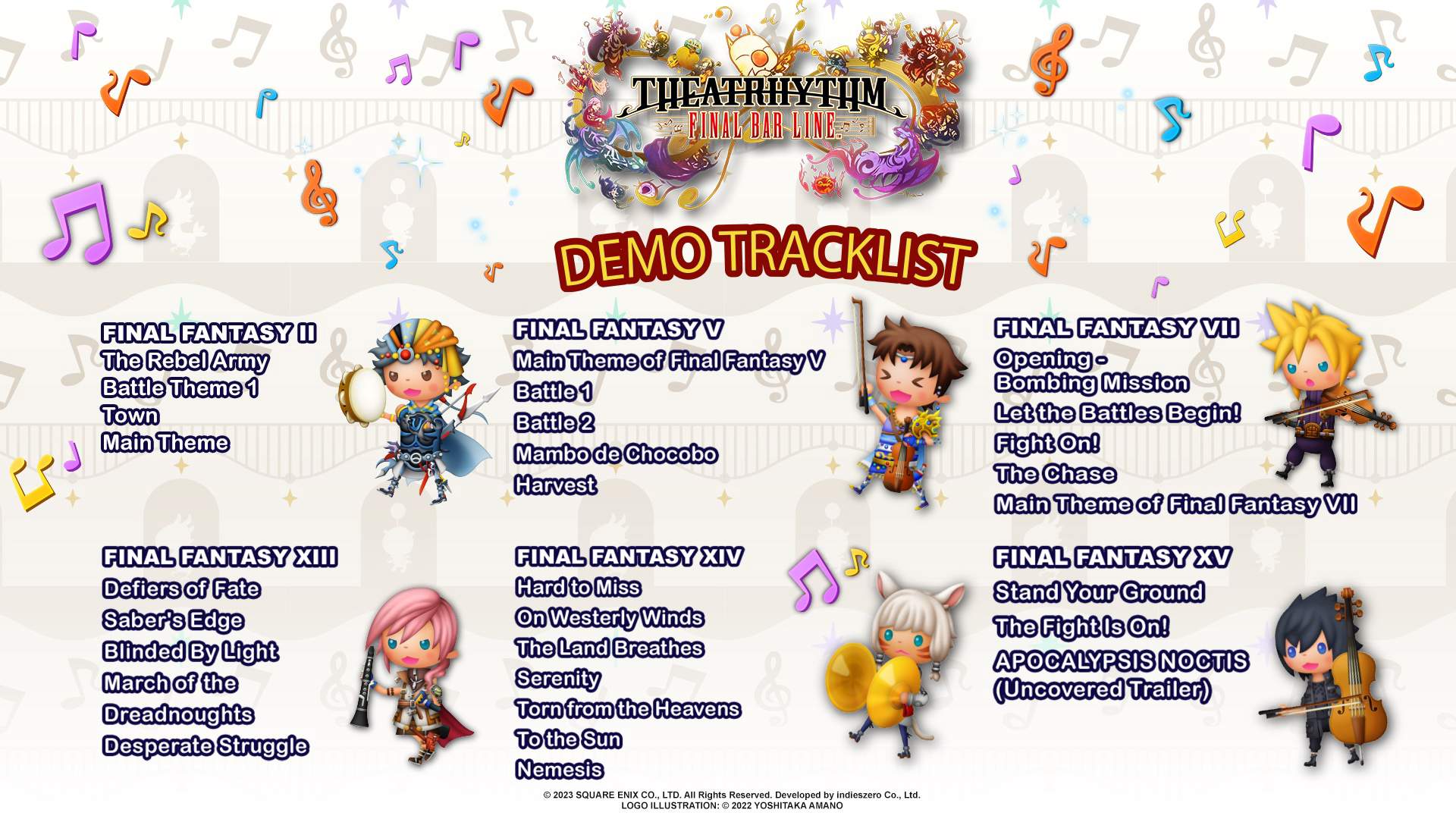 FINAL FANTASY II
The Rebel Army (BMS)
Battle 1 (BMS)
Town (FMS)
Main Theme (FMS)
FINAL FANTASY V
Main Theme of Final Fantasy V (BMS)
Four Hearts (FMS)
Battle 1 (BMS)
Battle 2 (BMS)
Mambo de Chocobo (FMS)
Harvest (FMS)
FINAL FANTASY VII
Opening – Bombing Mission (BMS)
Let the Battles Begin! (BMS)
Fight On! (BMS)
The Chase (FMS)
Main Theme of Final Fantasy VII (FMS)
FINAL FANTASY XIII
Defiers of Fate (BMS)
Saber's Edge (BMS)
Blinded by Light (BMS)
March of the Dreadnoughts (FMS)
Desperate Struggle (BMS)
FINAL FANTASY XIV
Hard to Miss (BMS)
On Westerly Winds (FMS)
The Land Breathes (BMS)
Serenity (FMS)
Torn from the Heavens (BMS)
To the Sun (FMS)
Nemesis (BMS)
FINAL FANTASY XV
Stand Your Ground (BMS)
The Fight Is On! (BMS)
APOCALYPSIS NOCTIS (Uncovered Trailer) (BMS)
When Theatrhythm Final Bar Line launches on February 16, there will be 385 Final Fantasy tracks in the standard edition. If you pick up the Deluxe Edition, it'll add an additional 27 tracks from other Square Enix series including NieR, Octopath Traveler, Live a Live, Mana, SaGa and more.