Diving into last night's investor briefing for PlayStation, Sony has some big plans it seems, including having over 20 first and third-party games available for PSVR2 at launch, but also bringing more games to PC.
What we've learned is that by 2025, Sony wants about a third of its first-party offerings on PC. "By expanding to PC and mobile, and it must be said… also to live services, we have the opportunity to move from a situation of being present in a very narrow segment of the overall gaming software market, to being present pretty much everywhere," Ryan said during the call.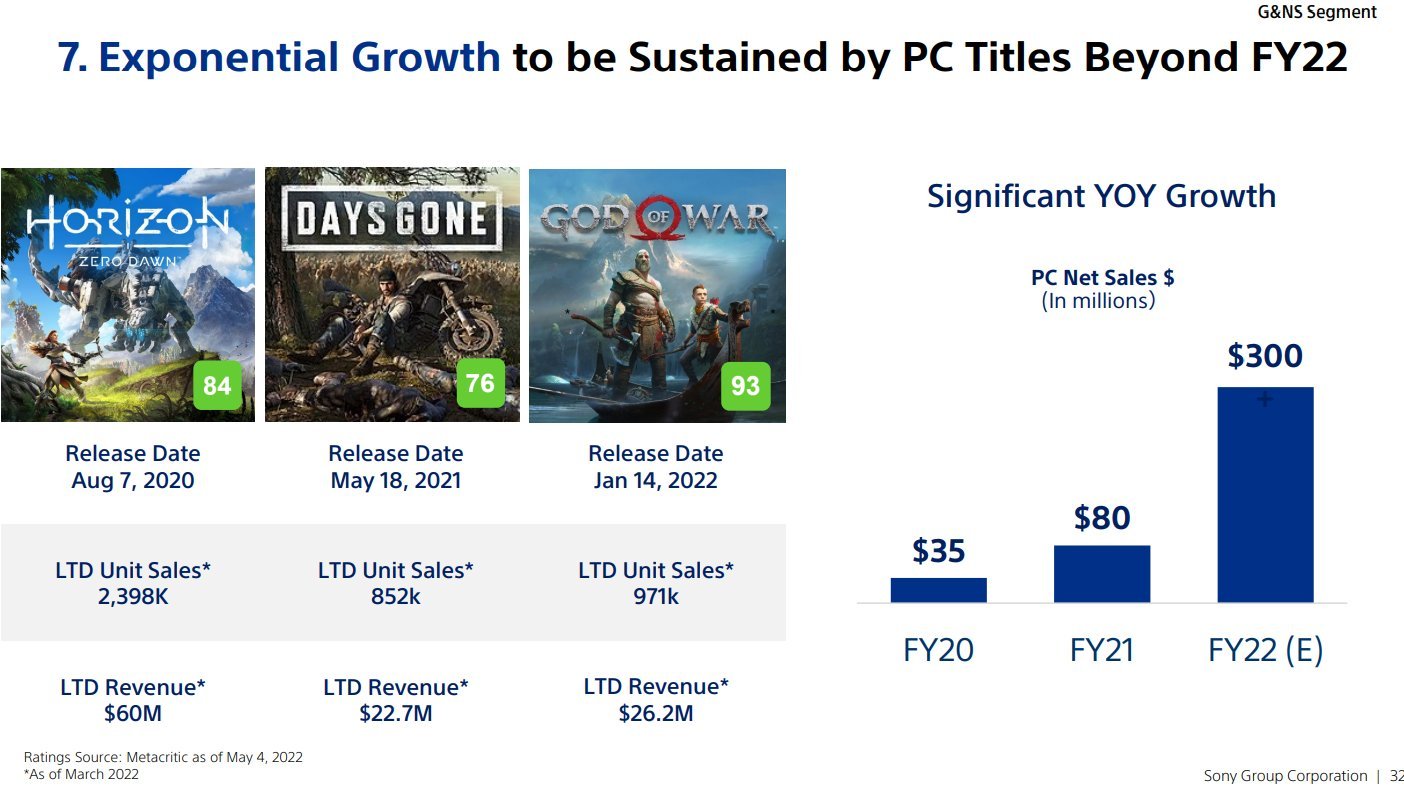 Horizon Zero Dawn launched August 7, 2020 on PC. It has since sold 2.39m units/ with revenue reaching $60m; Days Gone launched May 18, 2021 on PC. It has since sold 852k units with revenue reaching $22.7m; God of War launched January 14, 2022 on PC. It has since sold 971k units with revenue reaching $26.2m.
It's pretty clear the market and opportunity for Sony to expand beyond consoles is there and fans will want to diversify playing video games outside of a dedicated console.
Continuing on the call to investor, Ryan says "I think if we do this right, if we execute with intelligence and we execute with excellence, the opportunities for significant growth in the number of people who play our games, the number of people who enjoy our games, and the number of people who spend money on our games, is exponentially a large one."
It appears Returnal is headed to Steam

A SteamDB page features tags that accurately describe the game and some text string that mentions the 'Tower Of Sisyphus'https://t.co/wuFqDwLV7o pic.twitter.com/jrvZf70s1K

— Nibel (@Nibellion) May 26, 2022
Sony has plans to bring Housemarque's Returnal to PC in the future as a listing was discovered on SteamDB mentioning the Tower of Sisyphus, which was part of the recent free expansion added.
Uncharted: Legacy of Thieves Collection is coming to PC in 2022. Death Stranding Director's Cut launched earlier this year and was with a positive reception.
By Fiscal Year 2025, Sony is betting on a split revenue between console, mobile and PC, with the latter two making up nearly half of the revenue. It makes sense given that Sony predicts a whopping $300 million in revenue during fiscal year 2022 — a number that has more than tripled from fiscal year 2021.
My guess is the plan is to continue to foster growth with PlayStation consoles first. This means each new first-party release will have up to one year to sell on console before Sony ports the games over to PC. Recently, Horizon Forbidden West launched on PS4 and PS5 and it is likely we'll see it on PC by then of year.