It's hard to imagine that the pinnacle of gaming consoles was once the Xbox One and then the Xbox One X. Today, these systems can barely keep up with the games that we play on them, more so with Xbox One. With just a few days to go before the public gets their hands on the newest next-gen consoles, the Xbox Series X and Xbox Series S, we're going hands-on and looking forward to the future of Xbox and the ecosystem surrounding the best deal in gaming.
By now, we've ready previews and impressions of what the Xbox Series X can do when put to work. Sure, the videos prepare you for the speediness and optimization but it isn't until you witness first-hand how much power is in this tiny box that it becomes a spectacle. Microsoft is confident that the pair of consoles are more than enough to please anyone interested – and they're right. I'm impressed so far by everything I've seen and what I've done. The Xbox Series X is also one of the most interesting-looking consoles I've ever owned and just by looking at it, you know that it's unlike anything else from Microsoft. It is a sleek and smooth piece of technology that is simply remarkable for what it offers and for what it does.
If you're at all interested in upgrading, you won't find a better place to the game than Xbox Series X.
Hardware
By now, we've all seen the mock-up images and the dummy consoles showcased over the last month. The Xbox Series X is gorgeous and unlike any other console in the market, looking more like a PC than a traditional console.
Opening the retail box is one of the most exciting moments you'll have. You get a shiny new console that is full of potential and while it isn't the standard size of the older Xbox consoles, it fits right in with the lot of them. If the shape bothers you, it'll soon melt into the background of your entertainment console because it blends in so well with everything.
The CPU powering the Xbox Series X is 8x Cores @ 3.8 GHz (3.6 GHz w/ SMT) Custom Zen 2 CPU and the GPU is 12 TFLOPS, 52 CUs @ 1.825 GHz Custom RDNA 2. Ram clocks in at 16GB GDDR5 and with 1 TB of SSD storage, but with a proprietary storage unit with the option to use USB 3.2 External HDD but this supports Xbox One games and backwards compatibility. There is also a 4K UHD Blu-Ray Drive and the console aims to hit 4K @ 60 FPS, with up to 120 FPS.
What powers the Series X is AMD's latest Zen 2 and RDNA 2 architectures. Also, the Xbox Series X has four times the processing power of an Xbox One, which is twice that of an Xbox One X and eight times more than the original Xbox One.
And as much as I adore the aesthetic, there is much that is in flux for me. Namely, the software side of the ecosystem. Right now, we're not getting any new exclusive first-party titles. Halo Infinite was delayed from launch day to some time in 2021, Fable is years out, Forza isn't there to save Xbox. Instead, it is third-party developers delivering the launch lineup and many of these games were optimized for the new hardware.
And to make things more inclusive and readily available to gamers with disabilities, Xbox has designed the Series X and S with tactile markers on the back of both consoles. The purpose is to help identify what each port signifies to those who may be visually impaired and without having to pull the console out to see if you're placing the right cable in the right port. It's these little finesses that need to be included with every console going forward – we've hit a time in history where limitations are finally being relegated to the past and thanks to all the work Microsoft has done over the years, more and more people who would otherwise never be included, finally get to play alongside everyone else.
Xbox's New Controller
The Xbox Series X controller is familiar because it's almost the same as the old controller. It fits well in my hands and I've always preferred the placement of the analog sticks on the Xbox controllers over anything else. That said, the quality feels akin to the Elite Series and even uses familiar elements like rubberized grips.
I like the new share button and believe that not having one on the Xbox One controller was a huge flaw. Now, it's as easy as pressing the button and fits in without feeling shoe-horned in.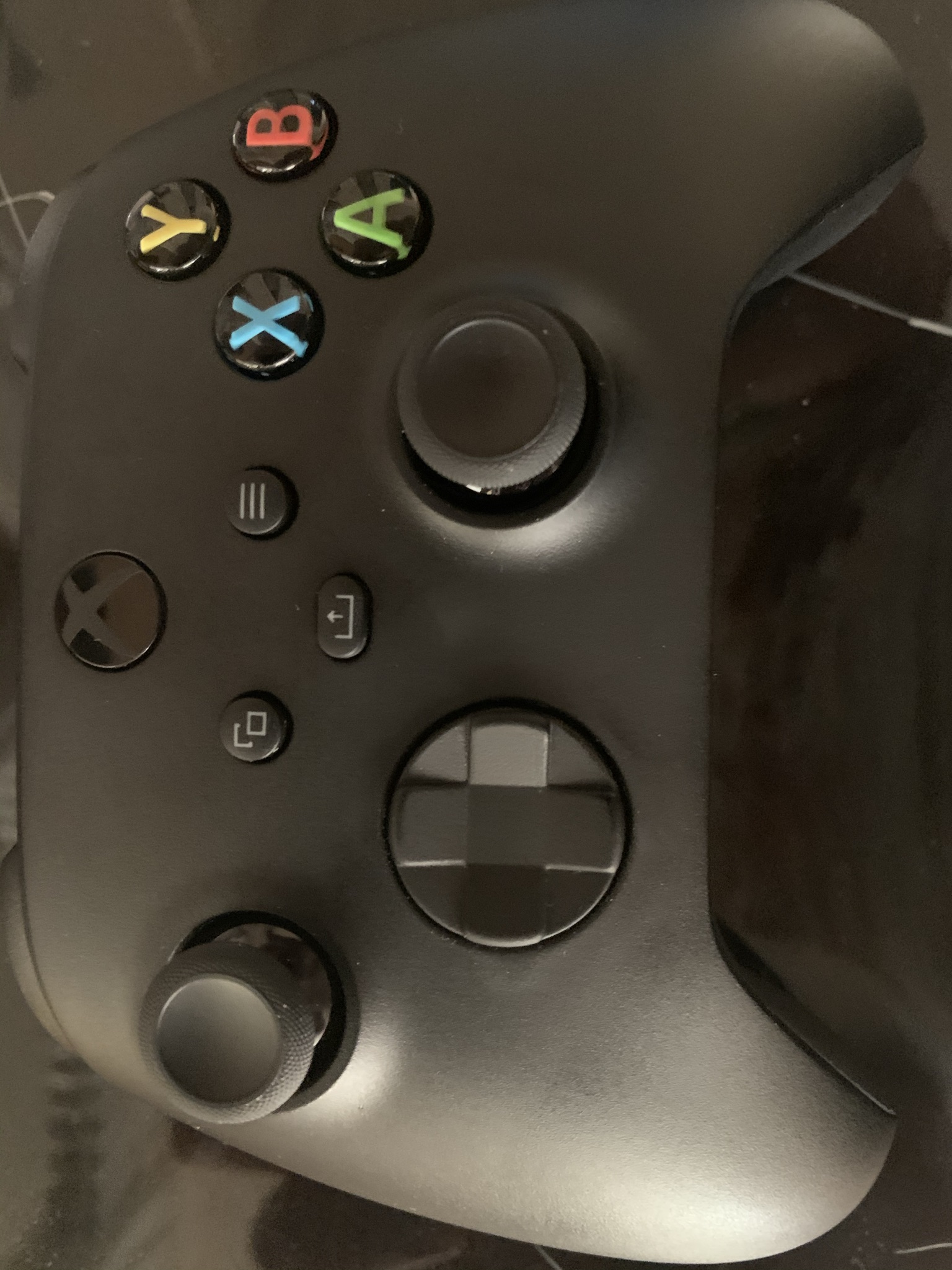 Overall, the material and quality of the new controller is much better than anything available last generation. The closest thing that would come close is as I mentioned above, the Elite Series of controllers thanks to their premium quality materials. Even the buttons and D-Pad feel like they belong in a controller double the price.
Xbox has perfected the game controller and with the Series X and Series S, have little to worry about. It's a knockout for gamers because it feels good to use, responds well to inputs and isn't overly heavy when holding it for extended periods. Even the battery life is on par with Xbox One controllers – I have no qualms about this, all you need is a pair of AA batteries to get situated.
Performance
To get this out of the way: the Xbox Series X is not at all hot and it performs better than previous Xbox consoles do and does it while being extremely quiet. I cannot stress this fact enough: Microsoft has developed a console that runs cool, cooler than many consoles out there. A lot of misguided and malevolent information is out there and I can say without a doubt there is nothing to worry about when it comes to the console heating up.
A lot of great articles available go in-depth about what the Xbox Series X can do with hundreds of video games.
Price
The Xbox Series X is priced at $599 while the Xbox Series S is priced at $379. There are new options for this generation if you think the price of admission is steep. For the first time, Microsoft is offering a new service called Xbox All Access to Canadians, with financing available over 24 months. One caveat is this is only available through games retailed EB Games and pricing begins at $29.99 per month for the Xbox Series S and $39.99 per month for the Xbox Series X.
If you're looking at jumping in, the program also includes two years of Game Pass Ultimate baked into the price. This is where Xbox wants consumers to be as it offers not only the Game Pass and xCloud but also Xbox Live access to those who join the ecosystem.
Games
One of the biggest games this year for the Xbox brand, Halo Infinite, has been delayed into 2021. That means this is the first time in the history of the Xbox brand, that we aren't getting a new Halo game at launch.
There are tons to play in the interim though, and a lot of these new titles offer Smart Delivery for those who start a game on Xbox One and then move to next-gen hardware. Through Smart Delivery, you get the optimized version of a game on your console.
Below you'll find a list of games available at launch that offer Smart Delivery:
      Assassin's Creed Valhalla
      Borderlands 3
      Bright Memory 1.0
      Dead by Daylight
      Devil May Cry 5: Special Edition
      Destiny 2: Beyond Light
      DiRT5
      Enlisted
      Evergate
      The Falconeer
      Fortnite
      Forza Horizon 4
      Gears 5
      Gears Tactics
      Grounded
      Halo: The Master Chief Collection
      Just Dance 2021
      King Oddball
      Maneater
      Manifold Garden
      Mortal Kombat 11 Ultimate
      NBA 2K21
      Observer: System Redux
      Ori and the Will of the Wisps
      Planet Coaster: Console Edition
      Tetris Effect: Connected
      The Touryst
      War Thunder
      Warhammer: Chaosbane Slayer Edition
      Watch Dogs: Legion
      WRC 9 FIA World Rally Championship
      Yakuza: Like a Dragon
      Yes, Your Grace
While the launch lineup is full of third-party video games, the first-party offerings are slim. Granted, we know that there are some really exciting titles coming, for a new console launch it doesn't feel right having anything new and exciting from Microsoft to play on next-gen hardware.
Backwards Compatibility
As of this review, Xbox's Director of Program Management, Jason Ronald confirmed that all original Xbox, Xbox 360 and Xbox One games would be compatible on the Xbox Series X and S. Kinect however, is the odd duck out in this case but there's a huge library of games readily available to play on day one when you get your console situated at home and ready to test out the new hardware.
But playing your old games on new hardware not only look better, but they also play better thanks to new features such as Auto HDR, higher resolutions and better load times across the board.
Games aren't only backward compatible, as your peripherals are welcome to the party. Officially licensed Xbox One accessories can be used either with a wire or wirelessly. If you aren't quite ready to order a new headset, you can keep on using your favourite pair of Turtle Beach headphones through the Xbox wireless controller's 3.5mm port.
Some of you may be questioning why there's so much focus on this aspect of owning hardware. It's really simple: many of us have built curated libraries over the years that reflect our tastes. Add in that gaming is an expensive hobby and none of us want to lose access to our older video games and now you have whole departments working on ensuring our gaming legacies arrive with us on day one.
And I have nothing but praise for the work Xbox has done in this regard. I booted up Assassin's Creed Unity with no issues, and this was a game that was plagued with problems at launch. I jumped back into Fable II, a game that I began on Xbox One X and forgot about it. I picked up right where I was within seconds of booting up the game.
User Interface
I despised the previous Xbox user interface that was on consoles, I'm happy to report that Microsoft has solved a lot of the issues I've had previously. I was a huge fan of the blades on Xbox 360 and having witnessed the transition over the years to the clunky, slow iterations we've all come to deal with, things are much better. At launch, the Xbox One was hard to use, navigating was always a chore. Now, things are much more intuitive with a snappier interface with the speed to match. Microsoft has taken to heart the feedback from users and it shows – moving through menus is so much better than it ever was.
Another stand out benefit of Xbox morphing into an ecosystem is the familiarity of using the dashboard. If you already own an Xbox One, then you'll feel right at home with your Xbox Series S. The added benefit of new hardware includes some bells and whistles though, like being able to turn off the console almost instantly and then turning the console back on and starting right where you were. A lot of people still prefer to turn off their electronics when not in use and Microsoft has delivered a console that starts up as fast as it was when in sleep mode.
But this is a time where we want instantaneous results and Microsoft has delivered that with the exciting Quick Resume feature baked into the Xbox Series X. If you play a lot of video games, then you're likely switching between them, juggling their gameplay and trying your best to keep track of progress.
Thanks to Quick Resume, you can now switch between your video games in 10 seconds or less and pick up exactly where you left off. If I could compare it to something, I'd say it's like save-states within an emulator. Up to five titles are able to be held in memory too but for this review session I went in with the understanding that the feature is somewhat buggy, however, and some games failed to load when attempting to use this feature.
I've powered on older titles like Assassin's Creed Unity then opening Ori and the Will of the Wisps, then trying out Ryse: Son of Rome. The results are excellent but a lot of my testing resided with trying out single-player titles. So far, it's been a dream for me but I need to spend a little more time testing out titles that aren't a single-player game. As it stands though, the Quick Resume feature is one that alleviates a lot of idleness from the player.
And removing the idleness feels like a magic trick. Quick Resume works even after powering down the Xbox Series X, unplugging it, discharging all the electricity by holding the power button and hooking the console back up and having everything work. Even after doing all this, the Xbox Series X picks up exactly where I left off, all five games I tried this with (DOOM Eternal, Forza Motorsport 7, Ori and the Blind Forest, Battletoads, and Fable II) resumed without issue.
I didn't stop there though because, with every previous generation available, I tested out some of my favourite titles. Final Fantasy XV loaded up under 12 seconds from the menu to in-game on Xbox Series X compared to 64 seconds on Xbox One X. Red Dead Redemption 2 loaded in 52 seconds on Xbox Series X, while on Xbox One X it took 95 seconds. Control, a game that famously struggled on Xbox One X thanks to the technology bottlenecking the game, loaded in 10 seconds and while on Xbox One X took nearly 40 seconds to load. Marvel's Avengers saw noticeable improvements as well with the Xbox Series X going from menu to in-game in 19 seconds, with Xbox One X taking 49 seconds to load.
As someone who would instinctively pick up their phone when having to load any video game, that isn't the case any longer. I can get a game running faster than the time it takes to grab my phone and load up Instagram or Twitter, and idle hands are likely a thing of the past for many like myself who end up leaving their game running even once it's loaded.
Xbox Series X vs Xbox Series S
So, you've come this far. You're wondering which machine is right for you. I'm going to help give you decide what console deserves to be in your home. Are you more invested than the average gamer and care about graphic fidelity? Get the Xbox Series X. Do you only really care about a handful of games, don't care to spend a lot of money, and don't care for cutting edge technology? Get an Xbox Series S.
The Xbox Series S is far more affordable at $379.99 in Canada. It's also less powerful than the Xbox Series X. It's still capable of targeting 1440p resolution instead of native 4K, but it's still capable of 120 FPS for those with the right television.
It also uses the same CPU as the Xbox Series X but where the two systems differ is in the GPU. RAM is also dialled back with 10GB GDDR6 vs the 16GB GDDR6 of the Series X. If you think this is a huge difference in power, it isn't. You're still getting all the features of a next-gen console but at 1440p and 60 FPS (and up to 120 FPS).
However, the big drawback is having no disc drive available. And the hard drive only comes with a 512GB NVME SSSD, essentially half of the storage of the Xbox Series X. Both consoles have upgradeable memory and Microsoft's even got a proprietary 1TB SSD expansion slot from Seagate. You can of course, also use your existing hard drive to manage your library and transfer games over to the internal drive as needed.
At the end of it, Microsoft has created an ecosystem that is available on almost every device. You can play on your iPhone, you can play on your Android device, tablets, PC, and even a fridge! What it comes down to is how invested you are in the next-generation and whether you want to spend the money right now to get an early start. You can't go wrong with either console and the idea going forward is being able to play how you want, on the device you want, when you want.
Verdict
While there is still not a great first-party library available from Microsoft, the new hardware pairs well with Game Pass. A lot of what makes this console so great is the ability to use the new hardware to make older video games look and perform better than ever before. The Xbox Series X feels much more like an evolution to the Xbox One, much like it would be if you were to upgrade your PC's graphics card. For the first time, we have available in the market a console feels much more like a PC than ever before – except you don't need to worry about any of the busy work associated with maintaining your system. But it also looks like a PC thanks to the Xbox Series X design, it's more of a tower than a console – and so far, everything promised by the teams over at Xbox has been realized.
So far, happy with first-party support for the Xbox Series X. It is now up to the 23 first-party studios to deliver experiences that can only be found on Xbox and with huge acquisitions like Bethesda, it will likely happen. For now, though, I'm happy with everything I've been able to do and play on the Xbox Series X. A lot of the Xbox Game Studios have done a stellar job at optimizing their games for new hardware. Playing Forza Horizon 4 with Xbox Series X enhancements is a highlight of my time with the new hardware, for the simple fact that a lot of time was spent in loading screens.
For what it's worth, my preview period included a catalogue of titles for review and discussion but many titles that I have been looking forward to getting hands-on time with, are locked away until launch day on November 10. I've had Assassin's Creed Valhalla since early last week and have watched the icon sit idly on my dashboard, taunting me. Other games I've been waiting for included the new Destiny 2 expansion, Beyond Light but even that is locked away and next-gen improvements aren't expected until December. As it stands, the hardware is fantastic and is going to allow developers the freedom to create engaging and iconic experiences within the Xbox ecosystem. Right now, though, I wish I had new video games to talk about with you instead of relying solely on the backwards compatibility, speed and the new UI. Stay tuned as we focus on the launch line up as it goes live on November 10, 2020.
[A pre-launch final retail unit was provided by Microsoft for this review].