Sony's first entry point into the virtual reality market was successful with the PlayStation VR. I made the rounds to all my friends, showcasing what it felt like to dive with sharks, race with professionals, and even be Batman. Almost seven years later, and with more than 5 million units sold around the world, the next evolution of PlayStation VR is ready to make a splash. And without all the fuss of wires, Move controllers, and a cumbersome setup. I saw the potential of what VR offered but it came with too many caveats, even if I didn't want to believe it. Needless to say, virtual reality is a unique experience and is a growing industry, with the potential to make life better.
But as much as I liked the idea of virtual reality, being tethered by a dozen wires to my console felt constricting and downright unappealing. I had a hard time having to reassemble all the cords and wires while making sure that my controllers were charged every time I wanted to play with PSVR.
PlayStation is now looking at deploying its next big peripheral this month with the PlayStation VR2.
And I'm a big believer in consoled-based VR after spending time with the platform.
PlayStation VR2 — Design and Comfort
Whereas the original PlayStation VR used a single 5.7' 1920 x 1080 resolution full-colour OLED RGB display, the PS VR2 comes with upgraded 4K HDR OLED panels sporting 2000×2040 resolution with a 90/120Hz refresh rate. Immediately the jump in quality is noticeable and yes, the PlayStation 5 is a powerful console so it would make sense the fidelity boost is noticeable.
And while we're not yet truly wireless, all you need to enjoy virtual reality on your PS5 is one USB-C port.
Taking inspiration from the PlayStation 5's aesthetic, Sony looked to its latest console when finalizing the design of PSVR2. When the PS5's design was being finalized, the team working on it also thought of how the next generation headset would look and feel, so the flat edges of the console reflect here with the virtual reality headset.
The first PlayStation virtual reality headset was a lot of fun and surprisingly comfortable for many who owned the device; the team working on the follow-up has used the same principles here to enhance the new headset. You can see this in the ergonomic design of the peripheral and with the ability to adjust the scope area of the headset, giving you more choices of having the headset closer or further from your face.
With the PSVR2 headset, the team added new features including the lens adjustment dial to tweak the inter-pupillary distance (IPD), so that the lenses sit at the right distance for you. Also, there is a new built-in motor for the headset for haptic feedback and a new vent design for airflow.
Comfort-wise, I had no issues with the PSVR2 headset. It sat comfortably on my head over several prolonged sessions and it never felt heavy. In fact, it felt a lot lighter than expected but Sony has retooled a lot of the materials to remove weight and I'm glad they did that. This doesn't mean that it isn't an issue with others though, and it is a situation where your mileage may vary. I also wear glasses from time to time and the PSVR2 was designed with the idea that even those who wear glasses can use the headset. I think it all boils down to what type of frame you're wearing, too but I wore my aviator-style set of glasses while working through Moss: Book II and only came out of it with some fog on my glasses.
If you want built-in audio, I have some bad news for you — there isn't any. Instead, the PSVR2 comes with an audio headset which you attached via a 3.5mm jack to the headset or alternatively through speakers on your soundbar. Given comparable VR headsets now utilize spatial audio these days, it feels like a bit of a letdown this trend isn't implemented here. I was never a fan of having to not only wear a headset to experience VR but then to also have to wear a bulky headset like the Pulse 3D. Alternatively, I'd love to be able to use my AirPod Pros to sync to my console to take advantage of the spatial audio those provide.
PSVR2 – Sense controllers
So long, Move controllers! The PSVR2 introduces two new controllers and they immediately remind me of the Meta Quest ring controllers. The orb design is a thoughtful decision made to make holding the Sense controllers feel natural. I wasn't too sure about how they'd hold up but I'm happy to say I'm impressed. Much to my surprise, the Sense controllers are bigger than I anticipated and fit comfortably in my hands. Also, they are built with finger touch detection so the controller detects your finger placement to prioritize natural movement. The controller's capacitive capabilities don't feel precise at all times but I'm hoping to revisit this in the future because even with my hands properly placed on the Sense controllers, the screen would reflect differently. In some cases, my pointer finger would be pointing forward on the screen but physically it was pressing a button. Or my pinky finger would show pointing outward on the screen but in reality, it was holding the controller firmly.
There's also the added haptic feedback the Sense controllers include. I'm a huge fan of this on the DualSense controller so I am ecstatic to see it once again. While it's the same as it is on console, it's about the same here and I haven't experienced the 'wow' factor of adaptive triggers yet across several titles. At most, you'll find different levels of resistance on the triggers depending on the actions on the screen. If you're in a game like Horizon Call of the Mountain, the resistance is felt when drawing arrows and aiming the bow. Both the left and right controllers come with face buttons (Triangle and Square on the left, Circle and Cross on the right), as well as a PS and options button to access settings. There is a grip button (R1), and a trigger button (R2), with the grip used to pick up in-game items.
PSVR 2 — New UI
As soon as you put the headset on, you're greeted with a tutorial that guides you through a painless calibration process. It's nothing strenuous and within minutes you're ready to begin. One thing that stood out was See-Through View, which controls the front-facing camera on the front of the headset itself by displaying the world in black and white. Before, if you needed to look at something with a VR headset on you'd have to remove it to see your surrounding. Now, it's so much easy to get an idea of what's around you without having to constantly pull the headset off your face.
This feature allows you to see your surroundings while wearing the headset. This will make it easier to spot your controllers in the room while wearing your headset, allowing you to play without removing the peripheral. This is done with the embedded front cameras to help view your surroundings and you can access settings from the Card in the Control Center which also includes additional features.
Also, a big thing that will help you when setting up your play area is being able to customize the boundaries of your room. Previously, this wasn't possible and you'd only get a warning on your headset indicating you were out of bounds. Now, with the PS VR2, you can now customize the play area for your home using the Sense controllers and embedded cameras. This works by having the cameras scan your room while the PSVR2 Sense controllers allow you to expand and further customize the play area to better fit your home.
When you come near a boundary in your play area, a warning is sent out confirming you are approaching the play area boundary. This can also be modified in the settings while the PlayStation VR2 is connected and will store your choices until you switch rooms.
PSVR2 — New Modes and Features
The PSVR2 comes with modern tech built right into the headset. Previously, as I mentioned, the PSVR came with a lot of bells and whistles you needed to attach to your console and television. Sony smartly decided this didn't work anymore (the market basically dictated wireless was the future anyway) so they went back to the drawing board and found a solution that works for the brand. Sure, a totally wireless headset would have been great but being able to utilize my PlayStation 5 isn't the biggest dealbreaker for me.
After a few hours, you barely acknowledge a cord is connected to your console because it's not only a long cable, it's unintrusive to the experience.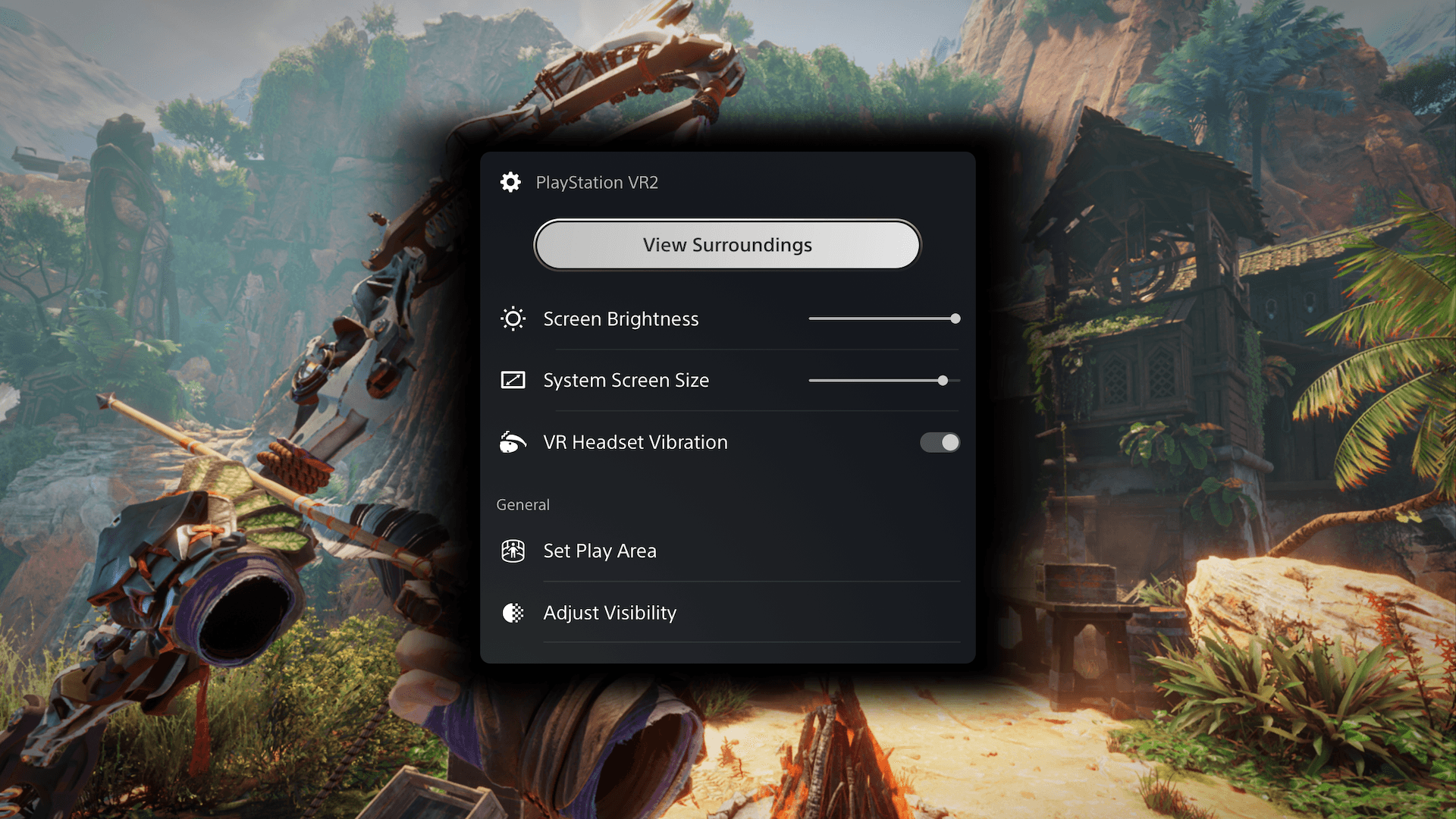 In VR Mode, players can enjoy VR game content in a 360 view in a virtual environment. Content will be displayed in 4000 x 2040 HDR video format (2000 x 2040 per eye) with a 90Hz/120Hz frame rate.
In Cinematic Mode, players can view the PS5 system and UI and all non-VR game and media content on a virtual cinema screen. Content in Cinematic Mode will be displayed in 1920×1080 HDR video format with 24/60Hz and also 120Hz frame rates.
I spent a few days in and out of several games including Dead Space, Final Fantasy VII Remake, PowerWash Simulator, and Returnal. I will likely be in the minority here but using Cinematic Mode is one of my favourite features of PSVR2. Will it ever replace the traditional experience? Not a chance, but Cinematic Mode is a great way to play your games without using the TV. Every game I tested looks incredible. Not only that but the boost in framerate being sent directly to the headset means I can enjoy 120Hz without owning a capable television.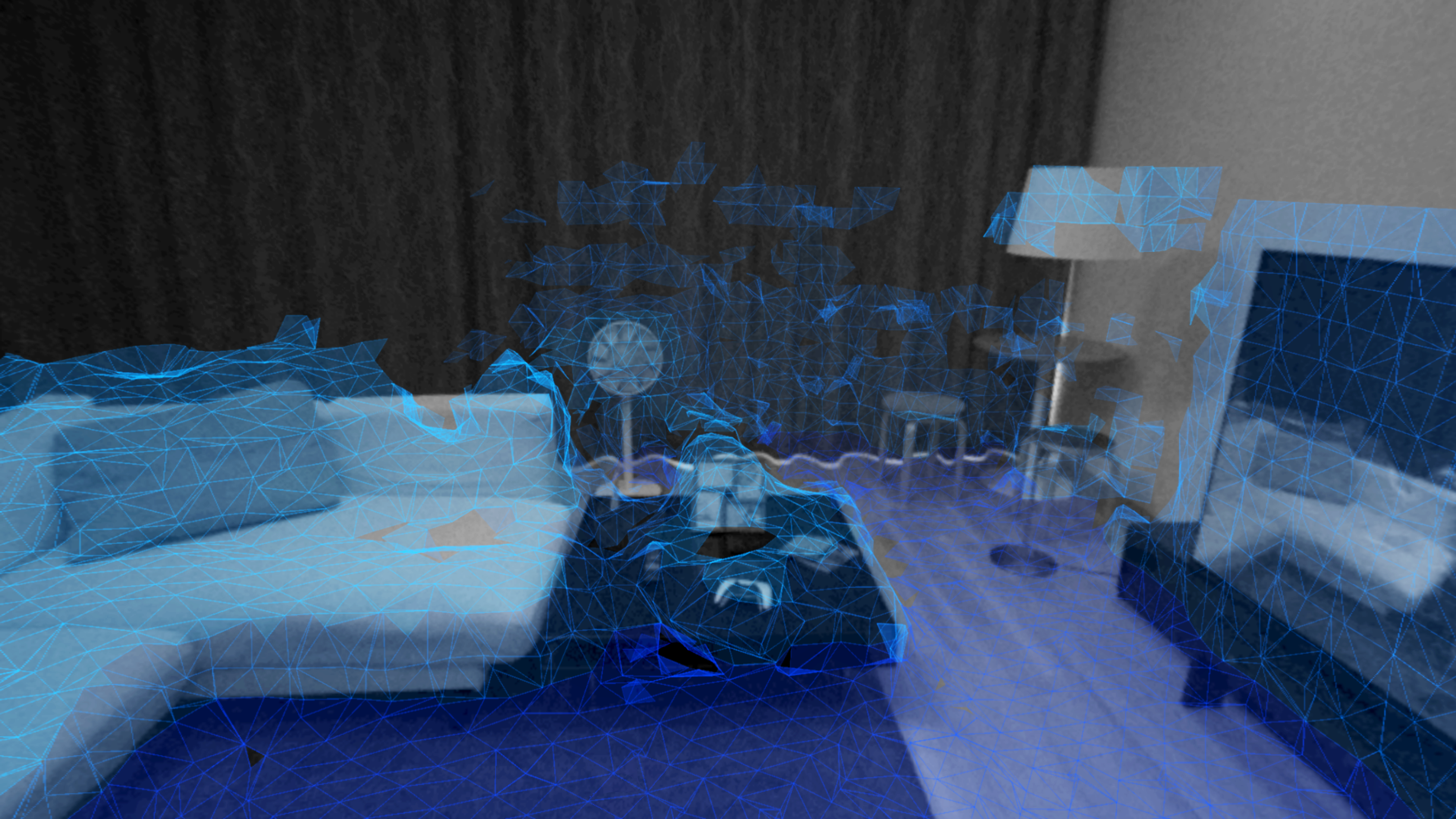 In the settings, you can set the size of the screen and make it bigger or smaller depending on your preference. The default settings are like sitting in the middle of an empty theatre, except you're at home on your couch playing video games.
Diving into Dead Space was terrifying because you're adding in 3D audio from the headset, which is frightening, to begin with, and blowing up the screen in your face. Returnal is another great title I think is a showcase for how great Cinematic Mode is and while it isn't made with VR technology, the boost in framerate alone makes gameplay feel smoother.
I haven't been able to test many videos but I was able to look at some YouTube on Disney+ to see how it handles. It works but like I mentioned, you're only getting a bigger picture on an empty theatre screen with none of the benefits games receive. I even tried to search VR videos on YouTube hoping the headset might be able to understand it was a 360-degree video. Unfortunately, all you can do is control the video's angle with your controller.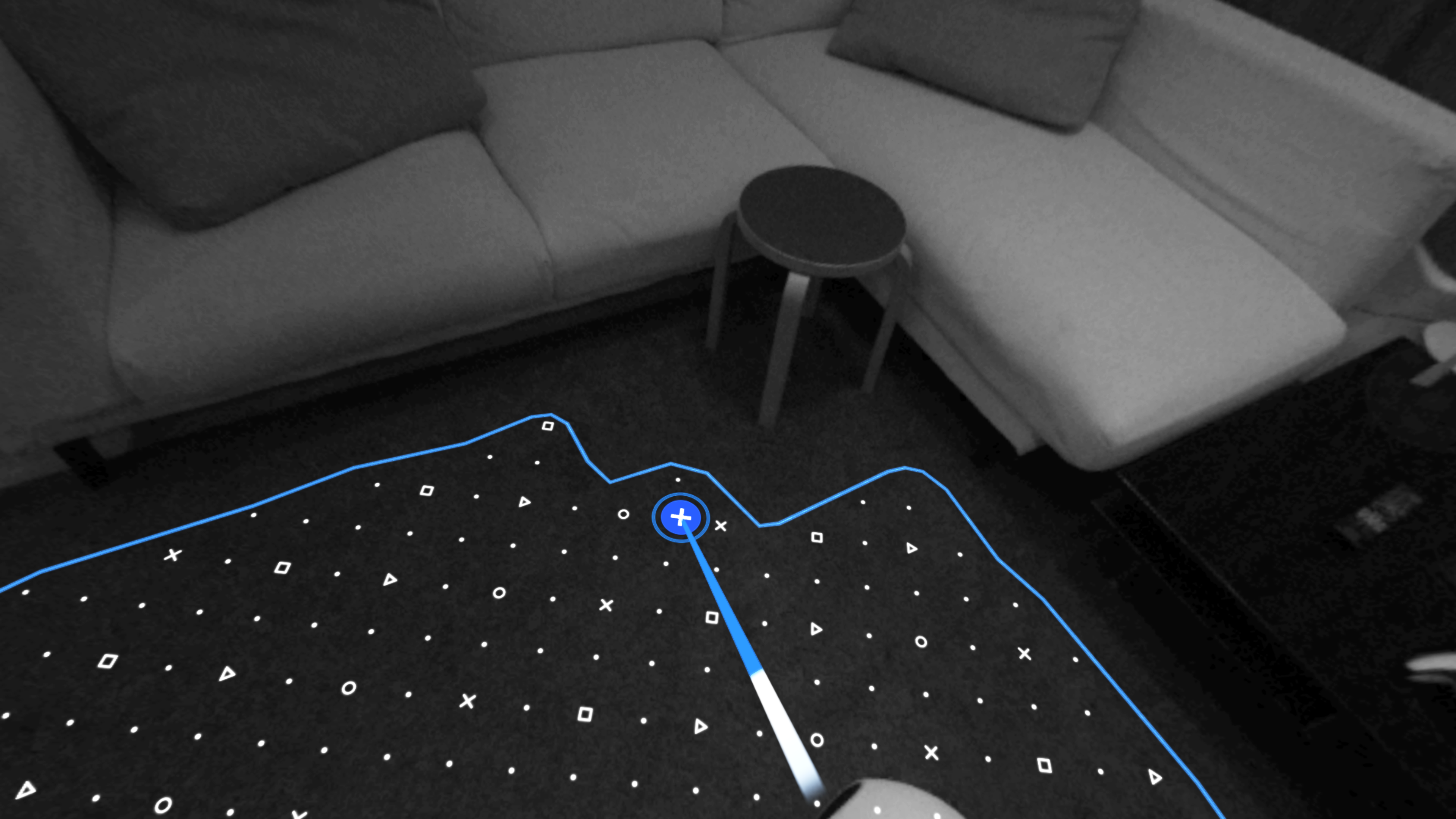 I'm looking forward to seeing how Cinematic Mode evolves over the coming years. Right now, it's still a new feature but it has a lot of potential in the future if there's a way to get film and television working.
Something that PlayStation VR lacked was eye-tracking. When you initially set up the PS VR2, you're asked to enable eye-tracking so that you can efficiently get around menus by simply looking at them. Not only to make the menus faster to use but in video games and through foveated rendering, you can look at something in the distance and all the detail loads where you're looking at. This is a technique used to reduce the workload of the hardware, giving whatever, you're looking at on-screen the best graphic performance without any visual loss. To be honest, it's something I don't expect the average user will even notice is happening but there are instances where I felt what I was looking at was rendering in higher fidelity.
Something the original PSVR was sorely missing was passthrough, the ability to see the outside world without having to remove your headset. This is something you'll use when trying to see where your controllers are or if you need to reposition yourself in the room. Thanks to the embedded front camera, you can press the function button to switch into passthrough mode.
Everything up until this point has been about much the platform has changed since launching in 2016. The initial reveal from Sony regarding a successor to PSVR was met with enthusiasm. To address the elephant in the room regarding pricing, the virtual reality headset with controllers and headphones retails for $549 US/$ 749 CAD. If you want the bundle that includes Horizon Call of the Mountain, it'll set you back $599 US/$ 819 CAD.
And that price is higher than the original PS VR bundle at launch, one that came with a demo disc to sample several of the launch games. Comparatively, the PS5 costs $519 and $649 for the Digital Edition and Disc-based Version. The PSVR2 bundle is a big ask but it also costs less than the Meta Quest Pro but is on par with the Meta Quest 2. You're picking up a peripheral that costs more than the PS5 itself, that's a big ask for anyone but it's a valid concern.
I genuinely believe there is a market for VR on consoles. Sony needs to continue to invest in the platform if it wants virtual reality to succeed on PlayStation. The VR market has carved a niche corner in the gaming market, one that continues to grow as technology improves.
However, if you were already sold from day one being an early adopter, you likely already had your purchase confirmed from PlayStation Direct. If you've been on the fence about whether or not PSVR2 is worth purchasing; my answer is going to be yes. There's a good lineup arriving with the headset at launch and with more games being added over the year, there's likely a handful of experiences I think make it worth buying.
Verdict
I've only spent a week with PlayStation VR2 but I'm convinced there's a future for VR on consoles. Sony's first entry into the market had an uphill battle but they clearly understand and see the potential. The great thing about experiencing the hardware is you can learn to believe in the vision Sony sees. With the support of developers, the need for viable games is now the biggest hurdle we're going to see as the hardware hits retail shelves. Six years ago, VR on console wasn't nearly as good as PC had it but things have changed and it feels like there's a level playing ground.
I've been eager to get home every day and put my headset on after work. And that's exactly what I've been doing with a huge smile on my face.
[A pre-launch final retail unit was provided by Sony for this review].