The eighth-generation of consoles was led by the PlayStation 4. Since launching in 2013, the system has consistently sold well, outpacing the Xbox One and going on to being the second best-selling console of all time, with only the PlayStation 2 in front. As we wind down the eighth-generation and the legacy of the PlayStation 4, fans are looking at Sony to see where the Future of Gaming lies.
My personal history with the PlayStation brand begins with the original. In 1995, I opened my Christmas present to find the PlayStation console, Crash Bandicoot, and a demo disc. Several years later, I received the PlayStation 2 as yet another Christmas gift, my first game being Final Fantasy X. As an adult, things changed and with the PlayStation 3 and PlayStation 4, I was there on Day One to pick up my console.
With the PlayStation 5, I'm lucky enough to be able to review the new hardware in the lead up to retail launch on November 12, 2020. It's the most powerful PlayStation console ever and Sony is in the best position to lead yet another generation thanks to innovation with the console's capabilities, the new DualSense controller, and of course, the first-party games.
Hardware
PlayStation 5 uses a custom eight-core AMD Zen 2 CPU clocked at 3.5GHz (variable frequency) and a custom GPU based on AMD's RDNA 2 architecture hardware that promises 10.28 teraflops and 36 compute units clocked at 2.23GHz (variable frequency). The console includes an 825 GB SSD that reads at 5.5GB/s and 16GB of GDDR6 RAM. There is also a 4K UHD Blu-ay Drive included (but of course, not with the Digital Edition).
Both the PlayStation 4 Pro and PlayStation 5 use custom AMD CPUs, the Pro utilizing an octa-core x86-64 AMD 2.16 GHz Jaguar chipset, and the PlayStation utilizing an octa-core x86-64-AMD 3.5 GHz Ryzen Zen 2 chipset.
Similar to the CPU, the GPU is using AMD Chips to power the console. The PlayStation 4 Pro has 4.20 Teraflops, while the PlayStation 5 has 10.28 Teraflops of power (across 36 compute units). Where the Pro was able to utilize checkerboard 4K resolution, the PlayStation 5 can achieve native 4K, with support for upwards of 8K, and support for 120 frames per second.
Looking to the memory side, that 16 GDDR6 is double the power of the PlayStation 4 Pro's 8GB of GDDR5 RAM. And while the PlayStation 4 Pro came with a 1TB HDD, the PlayStation 5 uses a custom 825 GB SSD with memory bandwidth reaching speeds of 448GB/s. And while this is all wonderful, the SSD's space allocation comes up short, especially looking at game install sizes today. PlayStation 5 offers 667.2 GB of usable space, which I've had to tackle in the last week by deciding what should stay internal to the SSD. At launch time, Sony's confirmed storage expansion is not available and the external SSD options can get expensive. With a console's lifespan ranging from 5-8 years now, it will be hard trying to keep the internal's available storage free.
Going back to my PlayStation 4 Pro has been hard. During my review period, I wanted to play online multiplayer, deciding to log on to Call of Duty: Modern Warfare to play some Domination matches, I'm met with the all-too-familiar jet engine roaring in front of me. Switching back to the PlayStation 5 is eerily quiet and unnerving after having the deafening sound of the PlayStation 4 Pro in front of me.
Every component of the PlayStation 5 comes with a premium feel and Sony's delivered a console that includes some of the most gorgeous bevels I've ever seen. Sony shifting away from the matte black finish on their consoles is a bold move that may not please everyone, but the PlayStation 5 certainly commands your attention when you enter the room.
My one gripe is the black finish on the console is a fingerprint magnet that is prone not only to finger marks but also a dust magnet. I've spent each day wiping the console down with a cloth and I dust regularly as it is. The same goes for the DualSense, which if you're worried it'll get dirty – you're right it will, and it does if you aren't careful. I've been on top of keeping my hands clean when playing with the PlayStation 5 but I've noticed bits of dirt appear on the back.
DualSense
The DualSense controller shipping with the PlayStation 5 is a major upgrade in almost every way. While the PlayStation 4 was an evolution of the DualShock, Sony has revolutionized with the DualSense. Spec-wise, the DualSense is bigger and heftier. The PlayStation 5 DualSense controller includes haptic feedback and adaptive triggers, allowing players to actually feel the tension in actions that they perform, like pulling back a bowstring. For developers, the adaptive trigger is programmable to an assortment of sensations. Sounds emanate from the controller during actions happening on the screen, offering a larger range than that DualShock 4.
Playing through Astro's Playroom immediately sold me on the capabilities of the DualSense. While a large majority of fans are focused on games like Miles Morales: Spider-Man and Demon's Souls, my attention has shifted to the pack-in title included on the console. I didn't expect to be as impressed as I was by Astro's Playroom but this cool little title made me a believer.
Using the unofficial mascot of PlayStation, you play through a tech demo that guides Astro through several levels that are based on the PlayStation 5 architecture. Each section includes hidden puzzle pieces that are artifacts, each unlocking a piece of the PlayStation legacy over the years. All the while, you're acclimating to the new DualSense and all the features of the controller.
Showing you a video of Astro's Playroom does no justice to how actually sitting down and playing it is. From the moment I began to the moment I stopped, the controller rumbled in a multitude of ways, thanks to the haptic feedback inside. You feel the controller response as Astro walks around, you feel the rumbling when sliding, you feel the rumble when jumping into a pool of water and off a diving board. Even walking through sand or skating on ice, the DualSense makes it feel like you're doing those very things. I can only express how much I enjoy using the DualSense through my own experiences – for you, it might not be as big of an impact but these small little details are the things that made me a believer in Sony's new controller.
The PS5 controller also has a built-in microphone, located at the bottom of the pad. With Astro's Playroom, the uses include blowing on to kickstart a makeshift sail, for example. Out of all the gimmicks the DualSense offers, this is one I'm not 100% onboard with yet and may be better implementation might shift my opinion but for now, it's neat but after a handful of online multiplayer rounds, I shifted audio to the Pulse 3D Headset to great success.
Sony continues to ship their controllers with a fully integrated battery. I know many people prefer the option of having the ability to replace AA batteries and for myself, I've been pretty good at staying on top of charging my controller over the years. The DualSense uses a 1,560mAh lithium-ion battery to power the controller, while the DualShock 4 included a 1000 mAh lithium-ion battery. In my estimates, I can say I spent nearly 10-15 hours with the DualSense before needing to plug in the USB-C cable.
Something I noticed is how different the L2 and R2 buttons feel on the DualSense controller. Both triggers feel a bit longer, offer a more satisfying press when in use and I'm very sure these two changes are tied to the new technology housed inside: Adaptive Triggers and the haptic engine. Pressing on, gone is the PlayStation 4's lightbar that we've grown accustomed to and now, includes a USB-C charger to make charging go faster.
Speaking of PlayStation 4, the new technology inside the DualSense does not work in backwards compatible games. I didn't expect Sony to include it with older games and the controller rumbles very much similar to how your old games do. New games like Spider-Man: Miles Morales though include some great instances of the DualSense, with the opening moments kicking off with Miles on the subway and the tracks shaking in your hands. There's also a bit of tension when web-swinging and you can feel the pull of the webs in the R2.
Another area I'm actively going to monitor is centred on the DualSense's analog sticks. On PlayStation 4, the left stick was notorious for having the grips fall apart after a few months of use. So much so, that I started buying thumb grips to prolong the life of my controllers. With the DualSense, I'm finding that the material feels the same so if you're like me and are extra precautious to ensure the longevity of your toys, this is going to drive you insane if it ends up being about the same.
Pulse 3D Headset
I've only spent time with Astro's Playroom and Spider-Man: Miles Morales while using the Pulse 3D Headset. With that in mind, while my experience has been limited to new titles, the sound is excellent. For starters, the design aesthetic is interesting and fits perfectly amongst the DualSense controller and PlayStation 5 Media Remote Control.
The earpads sit comfortably on my ears and from feeling them, are made from a pleather material. Sony includes a wireless adapter in the box that offers up to 12-hours of battery life and also uses a rechargeable battery. Sony confirms that the Pulse 3D Headset connects to PlayStation 4, PlayStation 5, and also compatible Windows and macOS computers with the adapter. 
Retailing for $129.99, the price is more than fair and the quality the Pulse 3D Headset produces is a premium experience that won't break the bank. There's a lot of titles to experiment with but playing video games with these on is a treat, audio is crisp and the 3D effect is immediately noticeable.
On the left side, you'll find all the buttons to adjust your set-up as you play with built-in mic mute, master volume and in-game audio to chat mix controls. Easily check how you sound to your teammates too with the dedicated mic monitoring button. Best of all, if you want to connect via a 3.5mm cable, Sony includes one in the box.
A big talking point this past March was from Mark Cerny and how the Tempest Engine delivers head-related transfer function (HRTF) to your ears. My ears are different from your ears and you and I interpret sound a bit differently. The idea behind HRTF is because our ears are different, you'll need to select the right profile to maximize your enjoyment of 3D Audio on PlayStation 5. I spent half my review period with the default settings before playing around in the menus and find the optimal experience for my ears. I'm holding out for a few more titles to release before giving a definitive conclusion but the Tempest Engine has piqued my interest in exploring soundscapes far more than my soundbar ever has done before.
https://streamable.com/pyfzbz
Performance
My PlayStation 4 Pro was one of the launch editions from 2016. In 2020, and with years of taking care of my machine with constant dusting and clearing the vents of dust, still sounded like a jet about to take off. The PlayStation 5 on the other hand, is whisper quiet regardless of what I do and what I've attempted to throw at it, will not make a peep.
Starting with Call of Duty: Modern Warfare, the game that nearly made my PlayStation 4 Pro explode, I connected my Western Digital HDD to the back of the PlayStation 5. Without hesitation, the console registered my hard drive and allowed me to immediately begin playing the game. The real test was having a match of Domination, which for whatever reason, always made my PS4 Pro growl in anger.
With the PlayStation 5, I didn't hear a single sound from the console. I heard every player on my team without the sound of a jet in my ear. Getting used to playing video games without incessant whirring from my PlayStation 4 Pro will take some time but the transition has been everything I could hope for with new hardware.
Price
The PlayStation 5 retails for $629.99 in Canada and the PlayStation 5 Digital Edition retails for $499.99. If you're looking to purchase an additional DualSense controller, these retail for $89.99 in Canada. And if you want two controllers, a good purchase to consider is the DualSense Charging Station, which charges both controllers together, it retails for $39.99.
Many of us have turned to stream these days and Sony developed the PlayStation 5 HD Camera. Featuring dual lenses for 1080p capture and a built-in stand, the HD camera works seamlessly with the PS5 console's background removal tools to put you in the spotlight.
Pairing well with the camera is the new Pulse 3D Wireless Headset, which I've been using for the past week. Pulse 3D's new design has been fine-tuned for the PlayStation 5 and includes dual noise-cancelling microphones, and immersive 3D audio powered by Tempest 3D Audio. The Pulse 3D Headset retails for $129.99.
For those of us who double down on our consoles also being our media centre, PlayStation has a new Media Remote Control available. Included on the remote are dedicated media buttons for Netflix, Disney+, Spotify, and Youtube. The Media Remote Control retails for $39.99.
User Interface
Sony has up until a month before launch, been silent on what the new user experience. In the video posted last month, Hideaki Nishino introduced the new UI powering PlayStation 5 and iterated that Sony believes that your playtime is valuable and you are the centre of the experience. After spending a week diving into the menus, learning how to navigate through the new menus, generally absorbing as much of the interface as I could. And for the most part, I'm really happy with the new UI because of how easy it is to get around, how easy it is to find what you're looking for, and how easy it is to pick and up to play your games.
It's been so long that I've been excited by a new UI that when Sony decided to reveal the PlayStation 5's UI, I was immediately drawn to how simple things are. If you've ever played on a PlayStation console, you know how polished the interface is. I've yet to ever find myself lost or overwhelmed by the options available in each menu and I'm happy that the trend continues with PlayStation 5.
The new UI introduces several new features designed to make your gaming experiences more fun, engaging, personalized and social. My favourite addition is the Control Centre, which provides immediate access to almost everything you need from the system at a single press of the PlayStation button on the DualSense wireless controller – all without leaving the game.
How about swapping between video games? It's as easy as pressing the PlayStation button on your controller and navigating to the Switcher within the Control Centre, which brings up a list of your most recent games, and also your most recent media apps. You can swap between the titles freely and resume where you left off.
And for those who enjoy trophy hunting, the new Activities feature is one that'll be a helpful tool. The idea behind this feature is to bring you close to your video games by allowing you to discover a gameplay element you may miss. If you are playing through Spider-Man: Miles Morales and missed something in the game, you can use Activities to jump straight into the action. It's a game-changing feature that I've only been able to dabble with so far but the fact is, this is going to be huge if developers support the feature. Some Activity cards can be put in picture-in-picture mode, so you can view them without having to leave the game.
Everything I've tried feels seamless. Switching between games, jumping into a match of Call of Duty: Modern Warfare, it's so fast that I don't have the time to sit and wait for a match to load anymore. The last generation felt like a waiting game to get into an online match or to load up a game like Red Dead Redemption 2. I'd sit and look at my phone for 5-10 minutes before even looking up at my screen. On PlayStation 5, this isn't something I'm able to do anymore because of how intuitive the experience is with new hardware.
Circling back a bit, over the last year I've eased myself into virtual photography thanks to how easy it is to snap photos on PlayStation 4. A lot of games have improved and added expansive photo modes and that's prompted me to start taking some time to get some beautiful shots of my experiences. With PlayStation 5, the Share Function has been improved, which adds the ability to capture screenshots and videos in 4K.
Accessibility
In the settings within the PlayStation 5 is the Accessibility menu. There's a ton of options for anyone who needs them. From the top is Display settings which all you to invert colours, colour corrections, adjust text size, bold text, high contrast, auto-scroll speed, and reduce motion.
Next, is the Screen Reader, which reads aloud a text on the screen and provides guidance for operating your PlayStation 5. You can adjust the speech speed, the voice type, and the voice volume.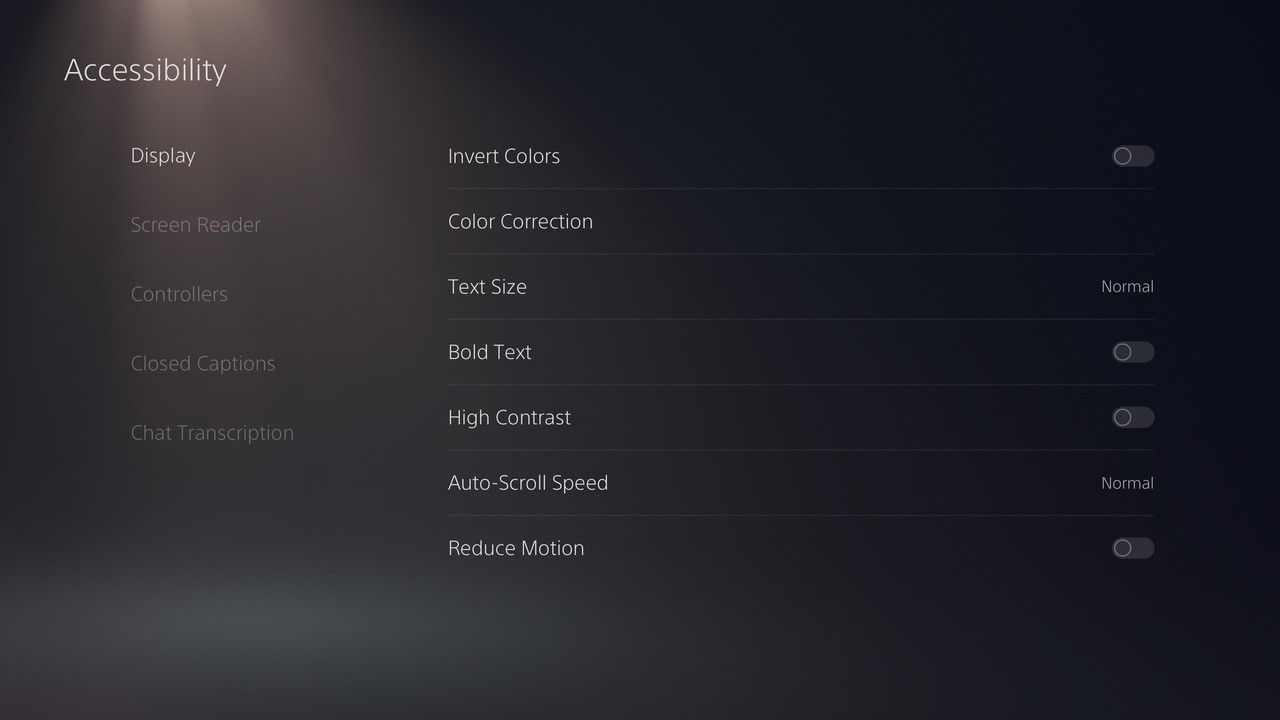 Proceeding down the list, you're able to adjust the Controller settings. In the menu, if you need to adjust the button setup, you can create custom assignments. If your controller's vibration is too intense, you can adjust it between Strong, Medium, Weak, or Off. The option to adjust the Trigger Effect Intensity can be found in this menu and is adjustable between Strong, Medium, Weak, or Off. The last item on the menu is Press and Hold Delay, which sets how long the PlayStation button can be pressed before the menu appears on the screen.
PlayStation has included Closed Captions that appear when playing videos and you're able to adjust the settings for characters and caption.
The final item within the menu is called Chat Transcription. The ability to convert voice chat into text whether it is within a party or in-game and the PlayStation 5 reads aloud the text you send to other players. You can change the language and also select the voice type.
All of these options are available on day one and with more and more people getting into gaming, the more options being readily available to enable their hobbies will always be worth mentioning.
Verdict
Sony and Microsoft are doing things differently going into the next generation, and I think that's a great thing for consumers. If you want a traditional console experience, Sony's PlayStation 5 is going to scratch that itch and check all your boxes. Sporting a pleasant new UI, snappy menus that are easy to navigate and a wealth of accessibility options. After spending over a week transitioning from the PlayStation 4 Pro, it's hard to believe how different the experiences are at a system level.
And as for performance? The custom NVMe SSD powering the console is technical wizardry and I'm eager to see what developers can deliver to us over the next several years. Paired with the revolutionary DualSense controller, Sony achieves a new level of immersion thanks to the Adaptive Triggers and Haptic Motors tucked into the controller.
Sony is the best at delivering console-selling games and single-player, story-driven titles. Those games are going to continue to push PlayStation 5 into homes. Even though the console looks like a space station from the future, it's a complete departure from the familiar black box Sony's pushed for two generations, I've grown to like the console aesthetic. That said, the new games that Sony does offer at launch can also be found on PlayStation 4, except for Astro's Playroom and Demon's Souls.
[A pre-launch final retail unit was provided by Sony for this review].