Nintendo's reveal that the iconic Clubhouse Games brand would be coming to Nintendo Switch was something of a shock. I spent a lot of time playing the original on the Nintendo DS and often clashed with my friends on which game was the best (to me it was I Doubt It and Bowling) but I digress. It's been roughly 14 years since the original game launched and while that version included 42 games, Clubhouse Games: 51 Worldwide Classics confirms the game launches with a whopping 51 games in what is a generally excellent package.
Don't come in expecting anything less than Nintendo-standard quality here either, as each game is wonderfully recreated on the Switch. Pick a figure that resembles you, answer a few questions about yourself and jump right in. There's no gating here and every game is available from the start with Stamp Mode entirely being eliminated. If you're curious about Stamp Mode, this essentially locked levels behind stamps that you would need to earn to gain more games. I wasn't a fan of this progression system and it felt disingenuous to the core gameplay, I'd spend hours playing a game I wasn't exactly good at, hoping I'd earn a win to unlock a new game. As it is now, the entire catalogue (plus the piano!) is available from the start so diving in with a friend is easy.
Clubhouse Games: 51 Worldwide Classics is a blast
I'm happy with the selection of games available, and while I'm still unsure of the rules on some games, each one is still a blast to play through. Mancala, for example, asks you to capture more stones than your opponent but the twist is if you drop your last stone an empty pocket, you can pick up your opponent's stones. Whoever has the most stones wins. Hanafuda is a traditional Japanese card game that is listed by month. You'll need to match cards of the same month (January to January or June to June) and certain cards make special sets for additional points.
Most of the games are explained well to the player. Though the dialogue is what you'd expect from this type of game, the cheeriness helps keep things light. Player pieces are beautifully animated during any scene explaining how a game works. Rules are mostly explained well, but some card games could use some more information. Once the explanation is over, you're taken to the game's menu to start the game, learn the rules, or adjust the AI of the opponent.
Once you complete a game for the first time, a green checkmark appears next to the game. To keep you coming back, you're awarded a medal based on the difficulty you choose (bronze, silver, and gold) respectively. You'll earn points based on how well you do against the AI of that difficulty level.
Choose your difficulty and have fun
What stands out to me about this game is the way playing with others is handled. Some games require using the touch screen, others require Joy-Cons, and some even require another Switch. If your household has more than one console, navigating to the eShop and downloading the Clubhouse Games Guest Pass allows the console to play all games via local play. It's similar to how games like Mart Kart DS ran, one copy supporting up to 4 players. An underlying issue of the way Clubhouse Games was developed includes the way we play. Card games aren't playable on one screen to prevent cheating.
With multiplayer in mind, I wasn't able to go online as the game is not available. At most, I'd have the game I'd chosen circling in the top left of the screen. The good thing is that if you're caught waiting for an online game, you're able to play another game while you wait. In theory, you select three games you want to play with others online and then if others selected those games, you'd then match with them.
One thing I wanted to test out is the Mosaic Mode, however, I only have one regular Switch and one Switch Lite. Mosaic mode uses multiple Switch consoles to link together to play across each screen. Using the piano as an example, you can make a longer keyboard, or using the slot cars, allows for each Switch to be a piece of a longer stunt track.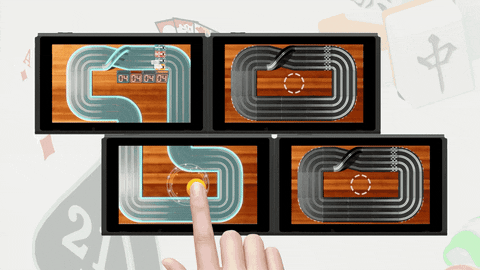 Verdict
Clubhouse Games: 51 Worldwide Games doubles down on delivering a variety of classic games. With no pieces to worry about losing and the convenience of 51 games (and the piano!) in one place, there's no other game like it. Nintendo delivers a quality product with a pristine presentation, and while the tutorials are super cheesy, they do a great job of explaining the rules of each game. Sure, some might be boring or lack the ability to speed up the gameplay, but these games are meant to be played with others. The level of accessibility and how easy it is to pick up any of the games available should be enticing for those who want bite-sized gaming sessions.
[A copy of the game was provided by the publisher for review purposes.]