Sony has announced a new State of Play for this Thursday at 2:00 PT/5:00 PM ET and will focus on June's Ratchet & Clank: Rift Apart. There will also be updates on a pair of upcoming indie titles coming to PlayStation but no word on which titles Sony is referring to.
Introducing Rivet!

See the mysterious Lombax in action in today's Ratchet & Clank: Rift Apart trailer, then tune in to State of Play on Thursday at 2pm PT for extended gameplay from @insomniacgames – plus updates on a pair of upcoming indie titles: https://t.co/f0IEfDx3c6 pic.twitter.com/mASOmXl4H2

— PlayStation (@PlayStation) April 26, 2021
Over on the PlayStation Blog, Marcus Smith, the Creative Director introduced Rivet, the female Lombax who's been in almost all the marketing for Rift Apart since the big reveal in June of last year.
"Yes! We finally revealed her name… you guessed it! Right?! Rivet is a Lombax resistance fighter from another dimension, where the evil Emperor Nefarious hunts all those who oppose him," says Smith. "You saw brand-new locations like Nefarious City and alternate-dimension twists on old favourites like Sargasso and Torren IV along with a sneak-peak at some new weapons and gameplay mechanics."
Smith also announced that Mark Mothersbaugh will serve as the composer for Rift Apart. Mothersbaugh is a co-founder of the rock band DEVO and he has previously worked on the first three Crash Bandicoot and Jak & Daxter games, Rugrats, and Thor: Ragnarok.
Lastly, there will be five cosmetic suits available for anyone who pre-orders the Digital Deluxe Edition: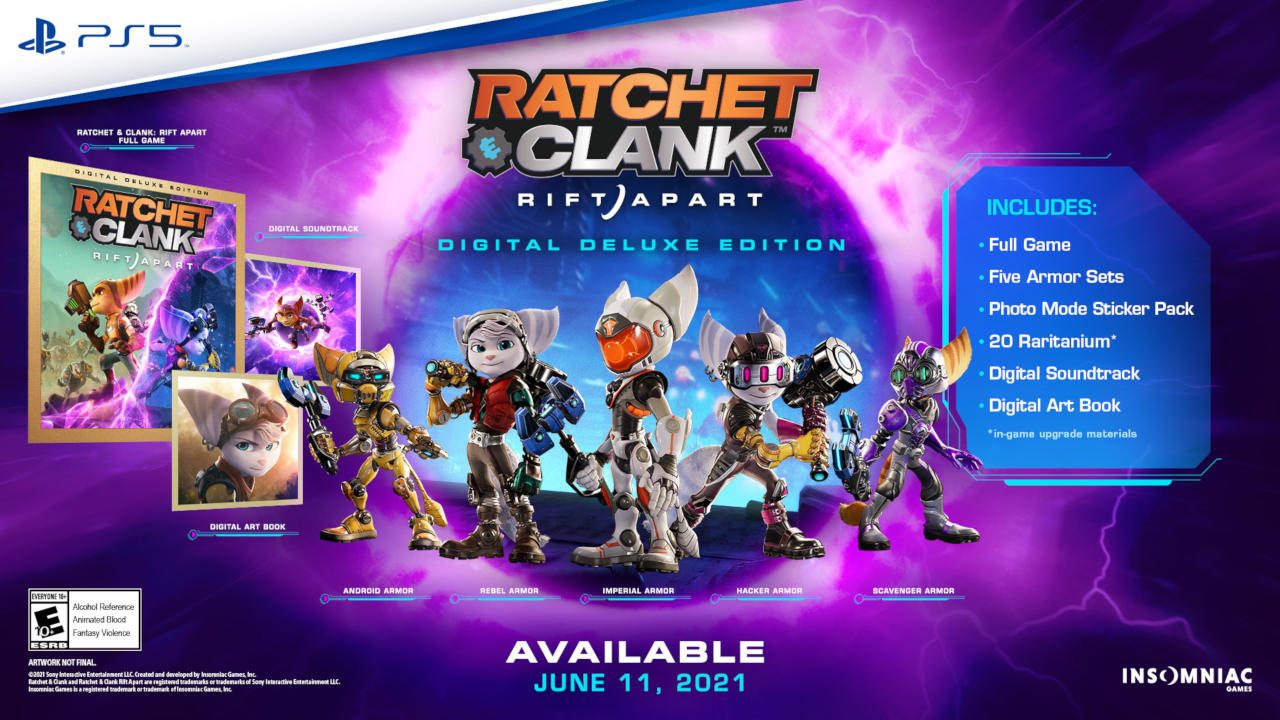 The Imperial, Scavenger, Android, Rebel, and Hacker suits are interchangeable so mix and match them as you wish!
Tune in to the PlayStation Twitch and YouTube channels this Thursday, April 29.
Ratchet & Clank: Rift Apart launches exclusively on June 11, 2021, on PlayStation 5.