With just days away from the busiest month for game releases, Sony has announced its monthly lineup for PlayStation Plus essential members and above in a PlayStation Blog announcement post.
If you haven't upgraded to PS5 yet, no worries, as all three games have native PS4 and PS5 versions that subscribers can add to their library next month, which officially kicks off on October 3rd through November 6th. PlayStation Plus subscribers at all tiers can look forward to adding The Callisto Protocol, Farming Simulator 22, and Weird West to their growing collection of "free" games.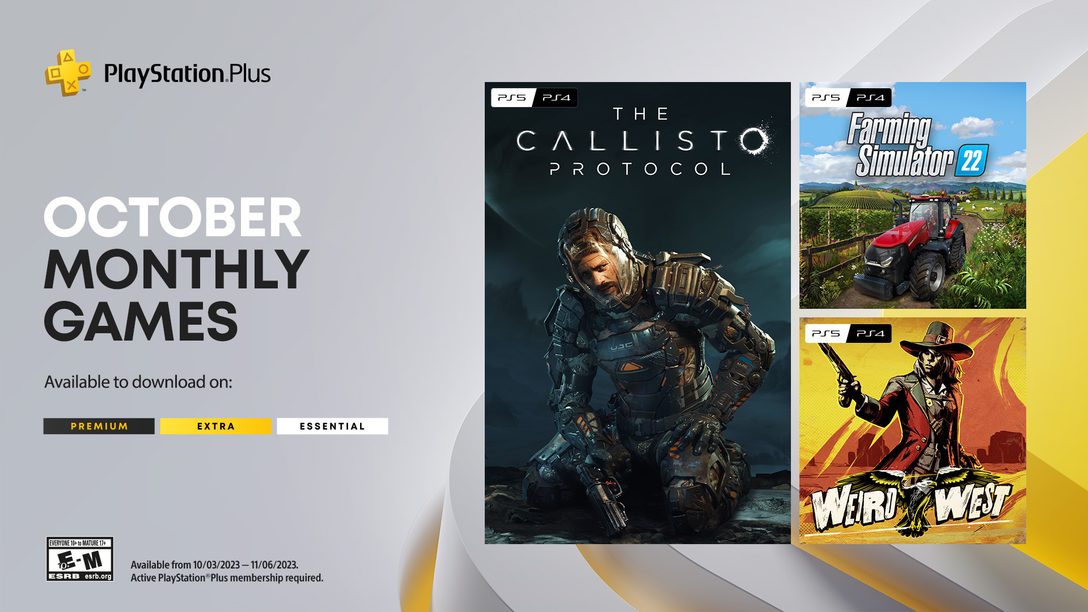 To get a better idea of what these PlayStation Plus titles have it store, check out the trailers and descriptions below:
The Callisto Protocol (PS4 & PS5)
The game leading the pack this month is The Callisto Protocol, originally launched in December 2022, and after ten months, all PlayStation Plus can pick this one up. This Dead Space spiritual successor from co-creator Glen Schofield takes players back to the sci-fi third-person survival horror genre and takes place 300 years in the future.
Players are trusted into the space boots of Jacob Lee, a victim of fate thrown into Black Iron Prison, a maximum-security penitentiary located on Jupiter's moon, Callisto. It's here where things get spooky (in space) as chaos invades the prison with inmates mysteriously transforming into monstrous creatures, Jason has only one choice… survive and escape while unveiling the moon prison's secrets. The Callisto Protocol features both shooting and close combat with enemies players will encounter along the way.
Farming Simulator 22 | PS5, PS4
It may be 2023, but that shouldn't stop players from going back to last year in Farming Simulator 22 as players are inserted into the role of framer and build their dream farm. Players will be able to sow and harvest crops like wheat, corn, potatoes and cotton while choosing from more than 400 machines and tools from over 100 real agricultural brands like John Deere, CLAAS, Case IH, New Holland, Fendt, Massey Ferguson, Valtra and many more. Players can play alone or compete with fellow gamer farmers in multiplayer, plus a bevy of free community-created modifications.
Weird West | PS5, PS4
Lastly, coming to PlayStation Plus this month is Weird West, which we reviewed; this one is a Steampunk dark fantasy set in the West with players taking on tons of supernatural creatures with vampires trying to take you down in this singular path action RPG.