"Three decades later, one thing remains true: Ducks fly together," proclaims today's NHL 23 Update.
Tomorrow (November 2) marks the 30th anniversary of the release of Disney's The Mighty Ducks — the heartwarming tale of a former NHL prospect and unfeeling lawyer who takes over coaching duties of the Minneapolis District 5 Ducks. 
Despite flying in formation to mediocre reviews, the movie became a classic to a cult of young boys and girls influenced to play community hockey. It also influenced the city of Anaheim to form the Mighty Ducks as an NHL team and yet another Disney-held entertainment property in California.
In partnership with Adidas and Disney, EA Vancouver offers a whole collection of goods for your "World of Chel" and "Hockey Ultimate Team" players.
The first is the iconic green, gold and purple D5 Ducks jersey to keep you quacking.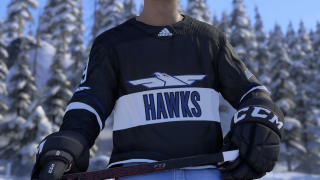 Jack Reilly's Hawks jersey is also on offer if you're more into stealth seriousness.
Both teams also have matching "Ultraboost" skates.
To add some real-world Anaheim Ducks content, a number of the team's best players from the team's 29-year history are coming to ICON Choice Packs. They include: 
Andy McDonald

Teemu Selanne

Francois Beauchemin

Saku Koivu

Scott Niedermayer

Jean Sebastien Giguere
 The "Fly Together" Update, in partnership with Adidas and Disney, is available until January 2, 2023.