After yesterday's preview of Marvel's Spider-Man 2 from EW, today's new story trailer sheds light on the Spider-Men, Peter Parker and Miles Morales, as they keep New York safe.
At San Diego Comic-Con, Insomniac Games brought the cast on stage before hosting a panel with development staff, including Senior Narrative Director Jon Paquette.
"At the beginning of our story, our Spider-Men are at the top of their game," said Paquette. "But Peter Parker and Miles Morales are struggling with their personal lives. Miles is trying to find time to write his college entrance essay, but he keeps procrastinating and focusing on Spider-Work instead. Meanwhile, Peter is underwater on payments for Aunt May's house, but he can't sell; it means too much to him. And just like Miles, Peter tries (and fails) to find balance with so many responsibilities. MJ wants to help Pete with the mortgage, but her job is on the line now that J. Jonah Jameson is back at the Bugle and looking to clean house. Our heroes have arrived at a confluence of crossroads, with uncertain futures and some tough decisions ahead."
In the trailer see flashes of Peter working a server gig, and we see him dressed for a formal event. Peter's life seems to be spiralling out of control as he attempts to handle living a double life unsuccessfully.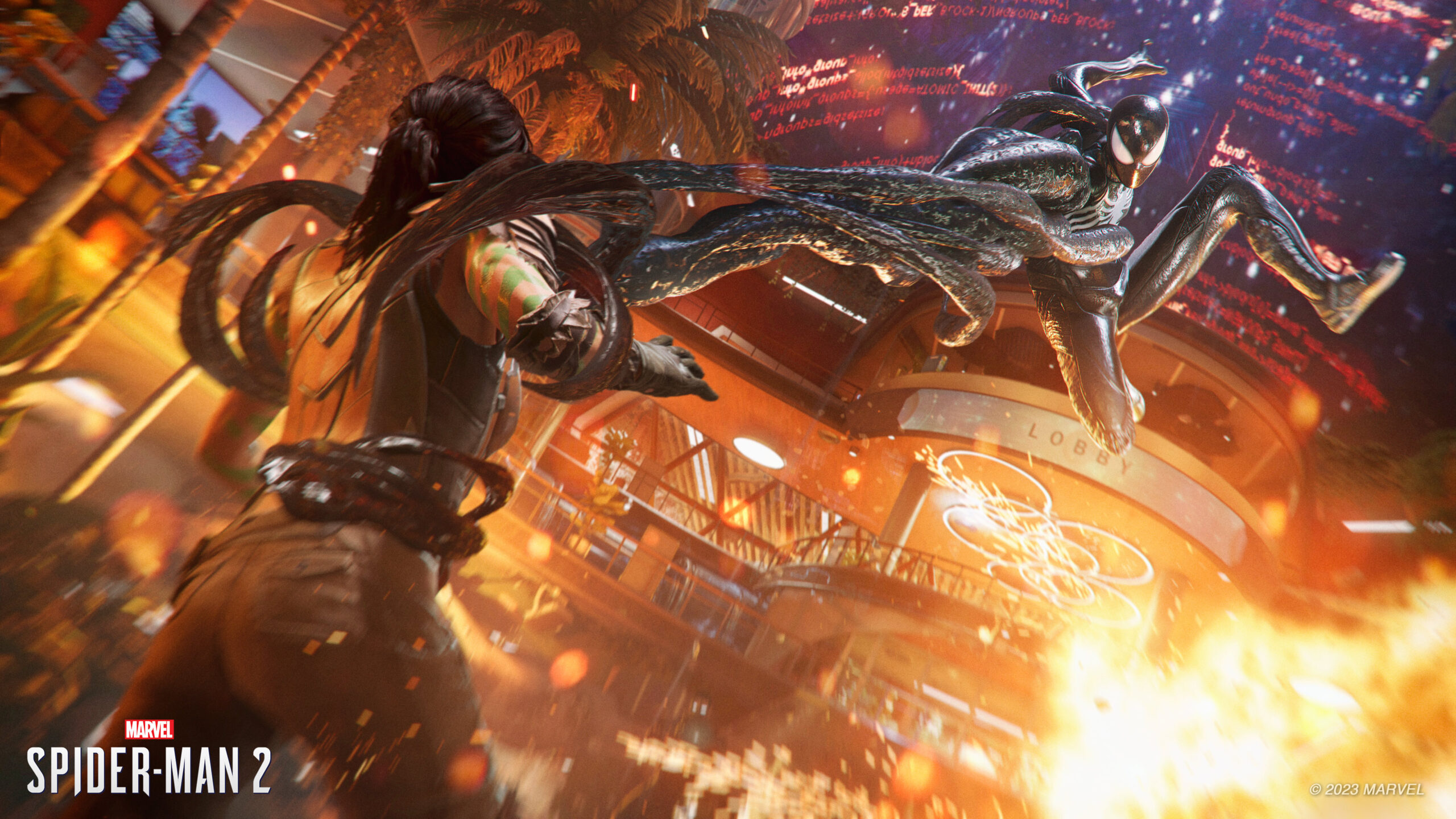 Enter Kraven the Hunter, one of Spider-Man's more formidable foes that have caught the webhead's scent and have entered the city for his next hunt. On top of dealing with Kraven and his hunters, the symbiote begins to enter the picture, and we all know what happens next.
As for Miles, he's still learning the ropes of being a superhero in New York, and while he's acclimated so far, he's left dealing with the events that led to his father's death – and it doesn't seem like we're ready to move on just yet.
Senior Creative Director Bryan Intiharwas at SDCC, and he answered some questions regarding abilities players can use in Marvel's Spider-Man 2.
"We've always thought of our Spider-Heroes as 'acrobatic improvisers,' and in Marvel's Spider-Man 2, we wanted to equip them with new ways to do so during combat," said Intihar. "This includes Pete's Spider-Arms and Symbiote powers, while Miles now brings two forms of bioelectric Venom to every fight. And when you start combining these abilities with all-new Spider-Gadgets like the Web Grabber, it can lead to some exciting combos."
Today's trailer also gives us a preview of the expanded New York City we'll be able to explore as we see the East River, Brooklyn, and Queens. Coney Island's also something to look forward to.
You'll need all the tools you can get as the Web Wings will allow you to traverse in a new way. Paired with the web swinging, the Web Wings complement the ability to get around the city, and you can even use them with wind tunnels that go across the city.
Regarding adding Venom to the narrative, "Our philosophy has always been that we want to respect the history of the franchise and the Spider-Man DNA, but also not be afraid to mix things up," said Intihar. "The same holds for one of its iconic characters, Venom. While the character's look and several of his powers/abilities should be familiar to fans, this will be a unique Venom story that we are excited for everyone to experience this October."
"When we decided to craft a Venom story, we knew we'd be making a bit of a tone shift. The best symbiote stories serve as an allegory: We all have darkness inside of us– but what would happen if we let it take over? Introducing the symbiote into our franchise forces our heroes to battle darkness in all its forms," added Paquette. "We wanted to see them change, both inside and outside, and feel its effect on those around them. And when Venom takes control, they face the real danger of losing themselves and their loved ones forever."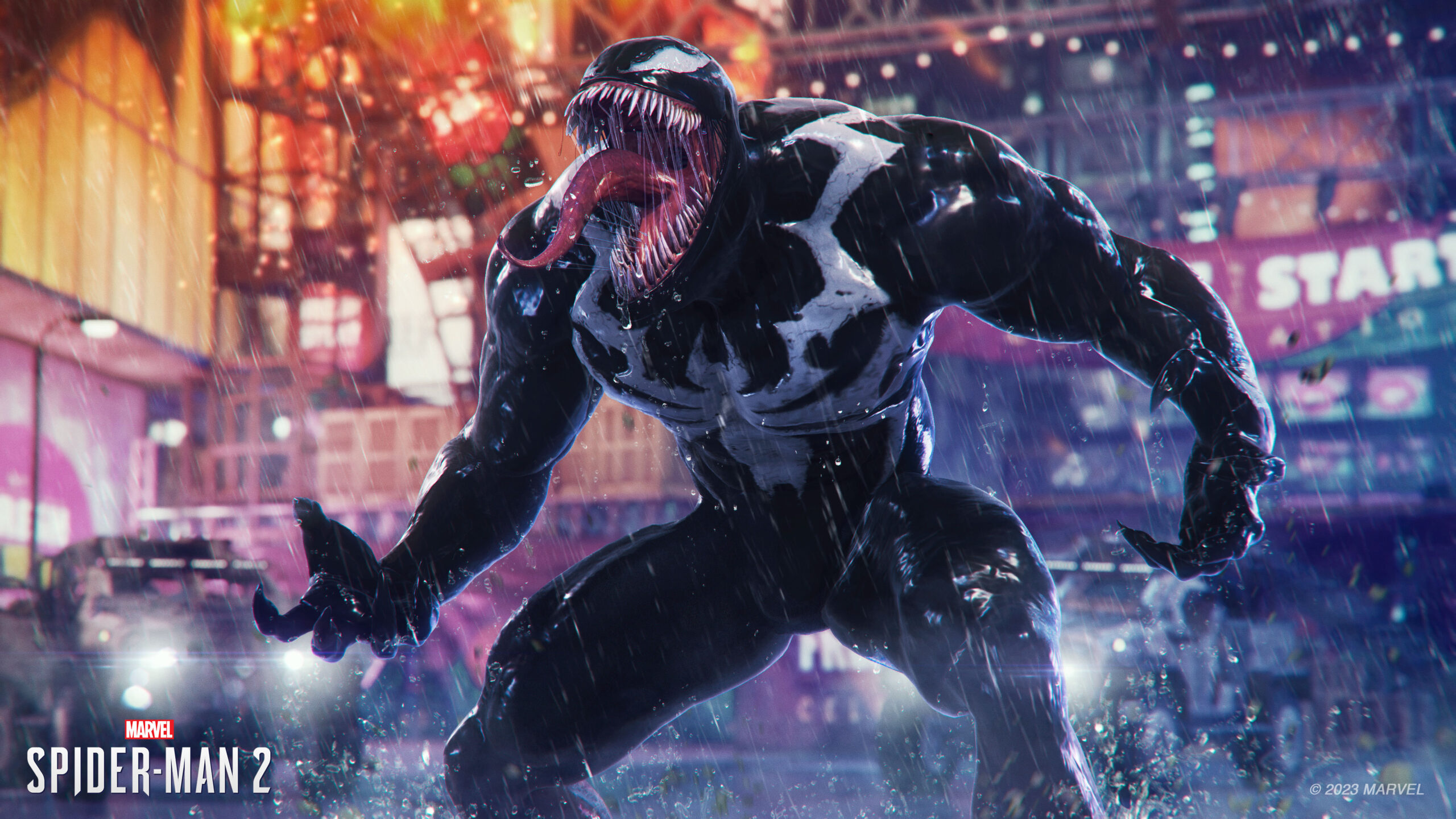 Senior Art Director Jacinda Chew says that the comics inspire their version of Venom, but with so many interpretations to pick from, they were able to mix and match. "He has a unique take on the white spider icon and has the anatomy of a human. He also has powerful tendril attacks that can take many forms. Finding the right balance between liquid and solid in Venom's materials was challenging, as going too watery makes him look weak, and going too solid can quickly turn him into a tentacle monster. Venom must look both powerful and semi-liquid at the same time."
Marvel's Spider-Man launched on PlayStation 5 on October 20, 2023.