Sure the bigger publishers have good showcases but the smaller indie developers are where my heart belongs. This year, Wholesome Direct returned with a stellar showing of some of the most wholesome and wonderful titles coming this year and into the next. If you missed this show, we have you covered.
Wholesome Direct 2021 came prepared with 75 titles from all around the world. Below is the entire presentation as well as a link for each game shown in the video below.
A cozy puzzle where you sort and stack and organize household items while preventing your cat from ruining your arrangements.
Described as a light adventure/visual novel about taking your Greek grandmother on a walk after suffering a scary fall. This one title spoke to me personally and I can't wait to play it.
Alekon -The Alekon Company – June 12, 2021
You'll photograph creatures, solve puzzles o help them find the best pose and then befriend each creature through quests and minigames.
Amber Isle – Ambertail Games – TBA
Craft and sell items, upgrade your shop, befriend your Paleofolk neighbours and customize the island to bring the village back to life and welcome even more prehistoric pals!
APICO – TNgineers – 2022
This beekeeping sim game is about breeding, collecting and conserving bees.
Personalize your cupcake hero and meet charming friends along the way. Leave the world better off than you found it in this turn-based RPG.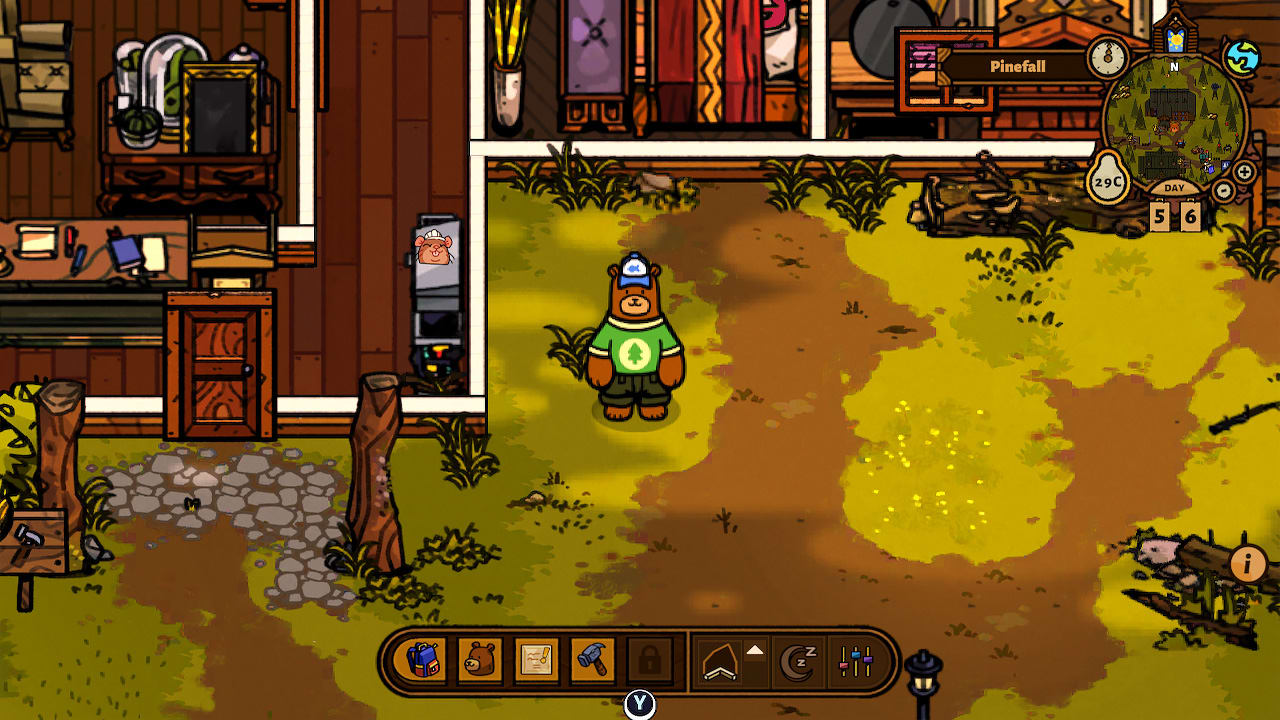 Bear and Breakfast is a laid-back management adventure game where you play as a well-meaning bear trying to run a B+B in the woods.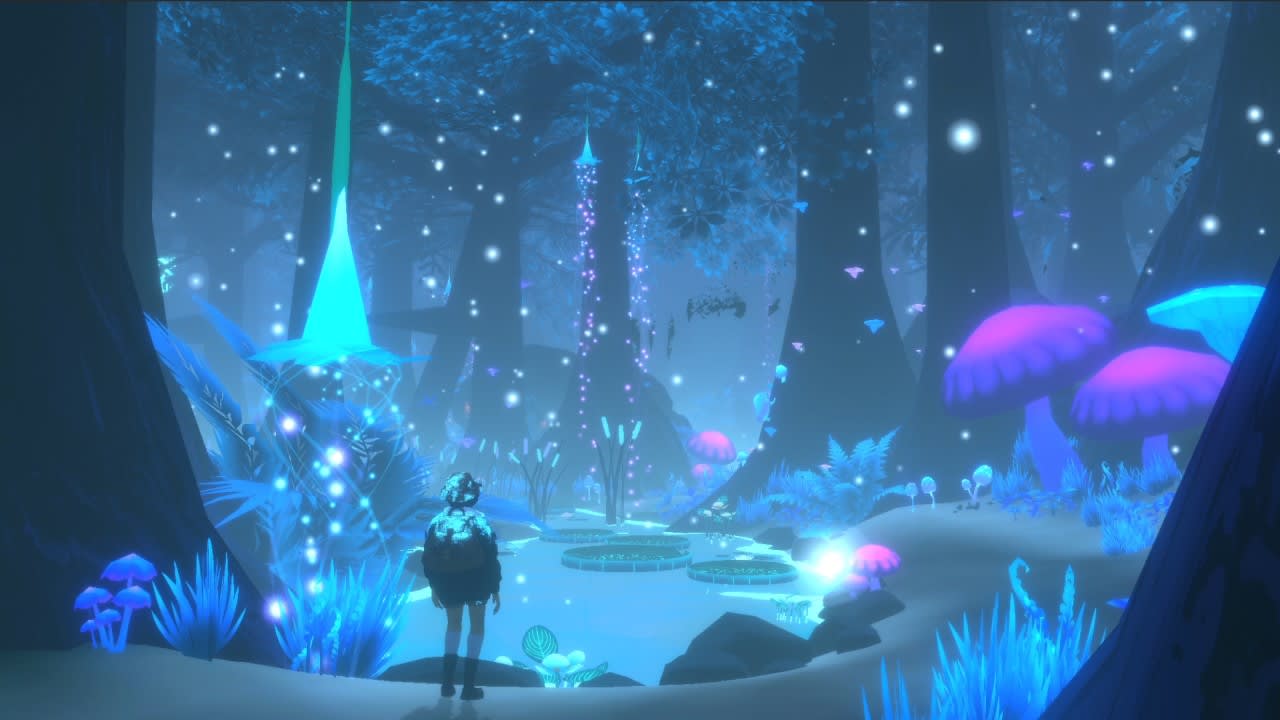 Beasts of Maravilla Island is a 3D adventure game where you take on the role of a young wildlife photographer who traverses Maravilla Island's magical ecosystems to discover extraordinary creatures, learn their behaviours, and, most importantly, photograph their majesty!
Guide brush strokes and solve a variety of puzzles to help an aspiring artist complete her masterpiece amid her brusque neighbor's gaze and his pesky cat.
Bird Problems – Lithic Entertainment – TBA
A sitcom narrative game about an awkward and anxious canary trying to make friends and drink cold drinks.
Book of Travels – Might and Delight – August 9
Ready your pack, grab your walking stick and step into a world of mystery and legend. Craft a unique character and immerse yourself in the enchanted lands of Braided Shore.
Button City – Subliminal – Q3 2021
Button City is a colourful low poly narrative adventure game about a fox and his friends banding together to save their local arcade
Plenty of stray cats around who deserve a proper home
Cat Designer Mocha- Kotoriyama – 2021

Seems to be a puzzle game where you line the pieces up to make a picture.
Clawfish – David Czarnowski – June 11, 2021
Clawfish is a fishing claw machine game. Visit an isolated train station with a fishing arcade. Explore the dock, play with the machines, and take some time to relax by the water.
Cloud Jumper – Hyper Luminal Games – Soon
Cloud Jumper is a chill game about exploring the Sky. Take the wheel of a tiny flying tug boat and launch yourself through a beautiful pixel world, filled with floating islands, colourful characters and ancient secrets.
Co-open – Lowpolis – Out now
A game about a kid's first time buying groceries on their own.
Dordogne -UN JE NE SAIS QUOI, UMANIMATION – 2021
Dordogne is a narrative adventure game in which you play as Mimi, a young woman visiting the house of her recently deceased grandmother who left her letters and puzzles to solve.
Surrounded by vibrant creatures and peculiar characters, Ami finds herself in a strange dreamland full of mysteries and wonder. Bake for others, ride colourful creatures and solve environmental puzzles to find the missing pieces needed to wake up.
Fire Tonight – Reptoid Games – August 12, 2021
A narrative puzzle game about two people trying to find their way back together in a city on fire.
Meet the Floppy Knights: tangible projections summoned from floppy disks! Tactics fuse with card game mechanics as Phoebe and Carlton – a brilliant young inventor & her robot-arm bestie – square off in turn-based battles.
Fossil Corner – Brady Soglin – June 12, 2021
You're a retired paleontologist. Collect fossils and solve puzzles in the calm of your old garage!
Freshly Frosted – The Quantum Astrophysicists Guild – 2021
Place conveyor belts to solve puzzles in the world's most adorable donut factory!
Frogsong – Brandon Braun – 2022
A heartfelt adventure where it's okay to be small.
Game Director Story is an unflinching and satirical look behind the scenes at how big-budget AAA games are made.
Unify a broken community as the newly-appointed Guardian of The Grove. Traverse a vibrant island to combat invasive Rot, inspire its inhabitants, and rebuild your home. You won't have to do this alone: fruity friends await, ready to lend a hand!
Here Comes Niko! is the cozy 3D platformer for tired people! You play as Niko travelling across scenic islands.
Hoa – Skrollcat Studio – August 24, 2021
Hot Pot for One – Rachel Li, Qin Yin – June 12, 2021
You are alone on a cold, Christmas night, stuck at home, in a foreign country. You get through it by cooking a hot dish intended for six people.
KeyWe – Stonewheat & Sons – August 31, 2021
KeyWe is a cute, cooperative postal puzzler starring Jeff and Debra, two small kiwi birds working in a whimsical post office.
Join Kokopa and Pollimero as they explore, build, garden, and meet new friends — while uncovering the mysteries of this unknown planet
What happens if you feed the word "insomnia" to a cute little critter, or the word "plushie" to a grim, menacing fiend?
KreatureKind – Valiant Game Studio -TBA
KreatureKind is an approachable and wholesome Card Battler/Deck Builder game about helping monsters, rather than killing them.
Lake Gamious – Fall 2021
It's 1986 – Meredith Weiss takes a break from her career in the big city to deliver mail in her hometown. How will she experience two weeks in beautiful Providence Oaks, with its iconic lake and quirky community?
LEGO Builder's Journey is an atmospheric, geometric puzzle game that asks us to sometimes follow the instructions… and sometimes to break the rules.
Letters – 5am Games – 2021
Letters is a fun word puzzle game about friendship, growing up and finding your place in life.
Loddlenaut is a cozy underwater survival game that takes place on an ocean planet.
Lonefarm  – Novemtails – 2021
Lonefarm is a farming and driving simulation game. Harvest a wide variety of crops, care for and feed your animals, decorate your cabin with furniture and drive your old Van all over the island in the middle of the South Pacific.
Luna's Fishing Garden – Coldwild Games, illufinch – June 16, 2021
Luna's Fishing Garden is a cozy fishing and building game.
In Moonglow Bay, you play as a rookie angler, working together with friends, family, and neighbours to hone your fishing skills, nourish relationships, and restore a remote town's fractured community.
Moonshell Island – Cheekynauts Entertainment – TBA
Achieve dreams, build a community and save Moonshell Island from Nomsters in this magical action-RPG combining Zelda-like gameplay and story-driven simulation elements.
Mythic Ocean – Paralune – Out Now PC, Console Soon
Teach the gods to create a better universe – or mess it all up in Mythic Ocean, a narrative exploration game where your choices shape the fate of the cosmos.
Ooblets – Glumberland – Out Now
Ooblets is a farming, creature collection, and town life game where you build up your farm, befriend townsfolk, grow ooblets, and have dance-offs.
Paralives – Alex Massé – TBA
Paralives is an upcoming life simulation game. Build your dream house, create some characters and manage their lives the way you want!
In Passpartout 2: The Lost Artist you draw and sell your own slapdash masterpieces on the go as you explore this beautiful handmade puppet world and its endearing cast of characters.
Pekoe – Kitten Cup Studio – 2022
Blend tea and friendship in the flavorful world of Pekoe, a cozy cat-filled tea-making simulator about taking the time for self-care and connecting with what makes you happy.
A story of love and friendship, and about understanding not just how to be happy, but how to be human.
Fire up your power washer and blast away every speck of dirt and grime you can find, all with the simple satisfaction of power-washing to a sparkling finish.
Princess Farmer is a charming visual-novel meets match-3 gameplay, with a host of adorable characters to befriend, mysteries to solve, and fashion to collect.
Pupperazzi – Sundae Month – TBA
Photograph and catalogue the finest (and derpiest) dogs to build your career, upgrade your camera, and discover new canines.
Rainbow Billy – ManaVoid Entertainment – TBA
Save whimsical creatures with the power of kindness in order to recolor a black-and-white world in Rainbow Billy: The Curse of the Leviathan, a wholesome 2.5D Adventure-RPG!
Recolit – ImageLabo – Soon
Recolit is a pixel art mystery adventure game where you explore a strange town by following the trails of "light".
RoboCo – Filament Games – Soon
RoboCo is a wholesome sandbox game about designing and building robots to serve the needs of squishy, hapless humans in the world of tomorrow!
Sally – Lucid Tales – TBA
In Sally, you embark on a flying transport ship to guide passengers to their destination. To ensure the ship's success, you'll have to craft items, produce food, take care of other crewmates, maintain the ship and discover new ways to improve the travel experience.
Seasonspree – Kitewing Studios  – Summer 2021
A game about nurturing friendships and celebrating the changing of seasons, where you play as Sunny, a cute little tanuki with the ability to control the flow of time just by walking around.
Shashingo – Ryan Pocock – TBA
SkateBIRD – Glass Bottom Games – August 12, 2021
Grind on bendy straws, kickflip over staplers and carve killer lines through cardboard and sticky tape parks.
Snacko – Bluecurse Studios – TBA
Lift a curse and revitalized a ruined island in Snacko, where former big city kitties Momo and Mikan are starting a new life!
Soup Pot –  Chikon Club, Chryse – Q3 2021
Make food with a wide range of locally sourced or supermarket ingredients in traditional kitchens. Discover and learn about more than 100 recipes while streaming your cooking on Cookbook, the in-game social media platform.
Spirit Swap – Soft Not Weak – 2022
Cast spells, be queer, & crash the biggest concert of the year!
Yukumo is a young girl traversing the world in her beloved airship. Upon arriving at a certain town, her airship breaks down. She decides to explore the town to search for parts for repair; however, the town has fallen silent, with no trace of its inhabitants
Teacup – Smarto Cup  – 2022
Teacup is a wholesome narrative adventure game with a focus on exploration and non-linear progression. Help a small and shy frog on her journey to find the ingredients she needs for her tea party!
A slice-of-life sim about the joy of gardening, and the small pleasures that follow. Whether you're fishing, growing, trading or just hanging with new friends, a wonderful and wistful adventure awaits when wandering The Garden Path.
Explore a mysterious island as a tiny lizard. Complete ancient puzzles, effortlessly climb cliffs, and eat bugs as you make your way across an island civilization lost to time.
The Magnificent Trufflepigs is a first-person, metal-detecting narrative game. It combines laid-back detecting and exploration with a dramatic story, all set in the beautiful English countryside.
The Outbound Ghost is an adventure game about a ghost figuring out the cause of their own death, and helping others come to terms with the afterlife.
Cosmic turbulence caused the worlds of Toodee and Topdee to merge with each other. Switch between Toodee's 2D platforming and Topdee's top-down block pushing to solve mind-melting puzzles, and bring back balance to the universe!
Tracks of Thought is a (self) exploration RPG shaped by your own personality.
Unpacking – Witch Beam – 2021
Unpacking is a zen puzzle game about the familiar experience of pulling possessions out of boxes and fitting them into a new home.
Venba Visai Games –  TBA
Venba is a narrative cooking game, where you play as an Indian mom, who immigrates to Canada with her family in the 1980s.
We Are OFK -Team OFK – Spring 2021
From indie-pop band OFK: We Are OFK is the story of how four friends came together to release their debut music without throwing their phones at walls in frustration.
Witchery Academy is a life simulator where you live the adventures of a wizard apprentice with your spirit companion.
Grow ingredients and craft spells to help the village of Flora prepare for the harvest festival (or not).
Wytchwood – Alientrap – 2021
Wytchwood is a crafting adventure game set in a land of gothic fables and fairytales.
Yokai Inn – ShibaPixels – TBA