Capcom Showcase is back, and we're recapping today's events which should include new reveals, extended looks, and surprises. Capcom is having a stellar year with Resident Evil 4, Mega Man Battle Network Legacy Collection, Street Fighter 6, and more.
We know we'll see Dragon's Dogma 2, Kunitsu-Gami: Path Of The Goddess, Ghost Trick: Phantom Detective, and Exoprimal, so I'm unsure what else to expect from Capcom this week.
Kunitsu-Gami: Path Of The Goddess
The Capcom Showcase started with a look at Kunitsu-Gami: Path Of The Goddess. I still don't know exactly what it is, but it sure looks good.

The description reads: Witness an epic clash between the spirit realm and mortal man, as the villagers fight to cleanse the holy mountain on which they live. Foul creatures called the Seethe have besieged the mountain, drawn to the defilement that has spread throughout the villages. To purify the land and seal away the Seethe, the Spirit Stone Maiden must perform a rite of cleansing—but she requires a guide to clear her path.
Mega Man X DiVE Offline
Dive into exciting side-scrolling action and power up iconic characters from multiple Mega Man series. You'll dive into Deep Log to rescue Mega Man X series data. Capcom says over 900 playable stages and characters Zero, Proto Man, Bass, Sigma, Axl, and MegaMan.EXE are playable.

You can even unlock 100 more than 100 customizable characters, power up weapons, and more.
Resident Evil 4 VR
Experience the ultimate immersive experience as Leon S. Kennedy takes on a gruelling rescue mission.
A free DLC exclusive to PS VR2.
Pragmata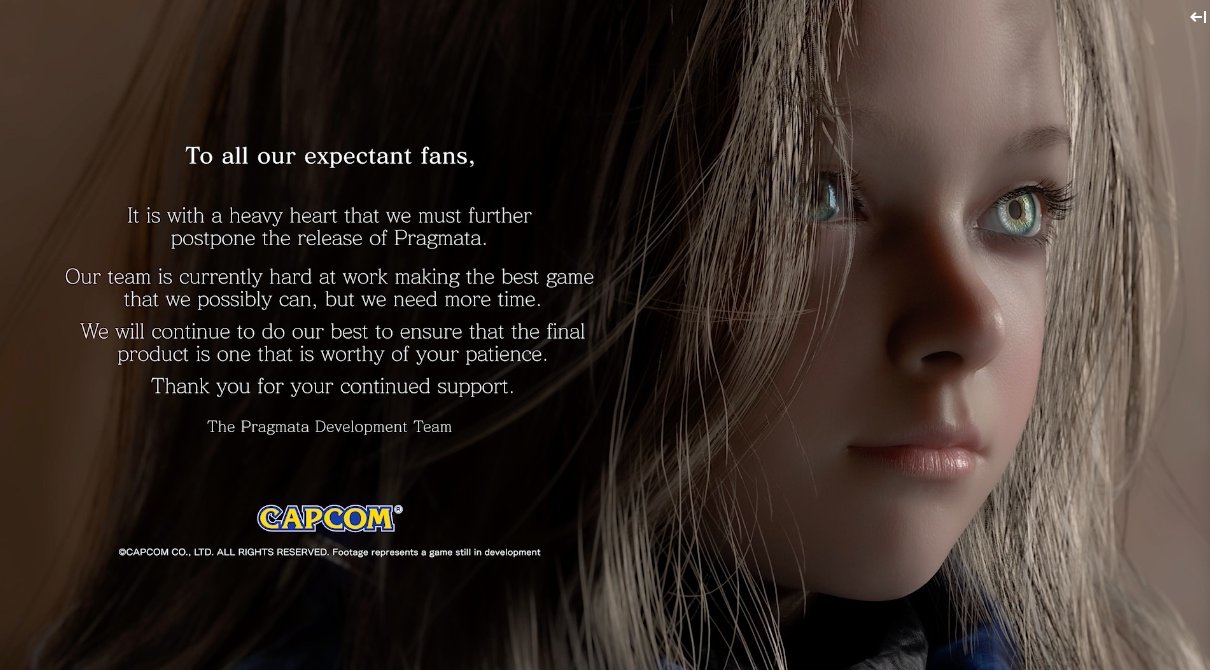 Capcom's Pragmata has been delayed once again with no release date.
Ghost Trick: Phantom Detective
A demo is live for Ghost Trick: Phantom Detective and progress carries over to the full game. From our preview, Luke says, "My feelings are that in a world where ports are just as prevalent as new IPs or additions to franchises, Ghost Trick: Phantom Detective deserves to call itself a successful part of that world in terms of what I've seen so far. It's a successful one-off that avoided being buried in gaming history next to its longer-running siblings. If it's a game you've yet to experience, this is a must-play. However, if you've played before, I'd like to know if there's enough of a Quality of Life upgrade here to necessitate another purchase."
Apollo Justice Ace Attorney Trilogy
Coming early 2024, include Phoenix Wright Ace Attorney: Dual Destinies and Phoenix Wright Ace Attorney: Spirit of Justice. This includes the fourth, fifth, and sixth entries in the Phoenix Wright series, and have been remastered in full HD with multiple language support, including Japanese, English, French, German, Korean, Traditional Chinese, and Simplified Chinese and new voice recordings for new languages.
More information here.
Capcom Town
Capcom Town is an interactive exploration of things Capcom is celebrating 40 years for the publisher. It's coming soon, filling with easter eggs, trivia, and more. Fans can enjoy various attractions such as taking a stroll through a digital museum to view artwork and other materials from the publisher's storied history, playing classic Capcom titles, and visiting the castle to vote in the Capcom elections for their favourite characters and games to receive rewards for participating.
The entire site goes live on June 13.
Exoprimal
The Capcom Showcase debuted the first glimpse of a new Exosuit variant, the Deadeye Alpha: Burst Fire. Director Takuro Hiraoka also introduced a special co-op mode, Savage Gauntlet, which challenges teams of five players with PvE missions that rotate weekly.
Capcom detailed Exoprimal and showcased content coming via Survival Pass Season1: Premium Tier, including 19 exosuit skins, ten weapon skins, three decals, four emotes, two stamps, ten player tag emblems, one player tag emblem.
The full version determines victory by finishing as quickly as possible. Exosuit variants, including Deadeye Alpha, will be included in title updates.
A second open beta test, including ten-player co-op missions, begins June 16 to June 18. Players will receive a reward for participating.
Exoprimal launches July 14, 2023.
Dragon's Dogma 2
Capcom's Hideaki Itsuno was on the show to talk about Dragon's Dogma 2, beginning with a trailer recap from last week. As a reminder, Dragon's Dogma launched in 2012, and the sequel will inherit two characteristics from its predecessor. First, it is a single-player game with pawns, and gameplay will be action RPG mechanics.
You play as the Arisen with your Main Pawn being fully customizable, in addition to two Support Pawns brought in from other players for up to four players, and are controlled by AI to make more precise decisions, help guide you to new locations, and even give you a high-five.
Dragon's Dogma 2 is built in RE Engine; the world is dense, packed with detail, and roughly four times the size of Dragon's Dogma because of the engine. Itsuno said new vocations are coming, but we didn't get any information regarding them during the Capcom Showcase. The vocations players choose shape whether they tackle foes with swords at their side or magick incantations, and varied elements such as terrain and enemies create dynamic combat scenarios throughout Dragon's Dogma 2.