Geoff Keighley held Opening Night Live for the second year in a row. However, due to the ongoing pandemic, most of the production was held with developers working from home and on the screen behind Keighley, who with a skeleton crew, was on stage in LA.
We got a glimpse of some new games, the second season of Fall Guys and tons of previews of already announced games. Here's what we saw today during Gamescom's Opening Night Live event.
Pre-Show
With Kyle Bosman hanging out, we got several new trailers before the main show with Geoff Keighley even began.
We saw new trailers for Jurassic World Evolution: Complete Edition, Scarlet Nexus, Quantum Error and Dirt 5, too.
This new cutscene from an early section of Call of Duty: Black Ops Cold War was shown off.
https://youtu.be/WRuamOtfT-w
Unknown9: Awakening
This was the first game to be shown during today's Opening Night Live. It's about a young woman who was "raised on the streets of Kolkata and haunted by visions of her own death." You'll play as Haroona, who will use The Fold (a hidden pocket dimension) to manipulate the world around her. It looks interesting but it is too soon to judge the game. Expect a console and PC release in the future.
Doom: Eternal: The Ancient Gods Part One
The first of a two-part story expansion for DOOM Eternal, "The Ancient Gods, Part One" casts players once again as the DOOM Slayer to confront an ancient evil awoken from an imbalance in the heavens. Ripping and tearing through never-before-seen locations in the DOOM universe, players will face off against fierce new demons and discover a new chapter in the DOOM Slayer's story.
Doom Eternal's first story DLC is coming out on October 20, 2020.
Dragon Age
We saw a behind the scenes look at what the team is doing.
Surgeon Simulator 2
Not sure what Christopher Lloyd had to do with Surgeon Simulator 2 and hearing the familiar theme of Back to the Future had me more excited than the actual premier of Surgeon Simulator 2, which is out now on Epic Games Store.
Bridge Constructor: The Walking Dead
A brief trailer showcased a new Bridge Constructor title, set in The Walking Dead universe. Expect to see the game in 2020.
Sam & Max
A new game featuring the detective duo Sam & Max was revealed. Geoff Keighley confirmed that this is a VR game.
World of Warcraft Shadowlands

We saw a preview for new animated short for World Of Warcraft: Shadowlands called Bastion. Did it look good? Yes, it did. I'm not very informed on World of Warcraft but the preview certainly piqued my interest. 
Blizzard confirmed that World of Warcraft Shadowlands is out on October 27, 2020.
Warhammer Stormground
The first game in the Warhammer: Age of Sigmar universe has been revealed. It is called Stormground and it is out in 2021.
Crash Bandicoot 4
The Flashback levels are designed to challenge players' puzzle-solving and technical performing abilities. They also give fans even more ways to play. Through the collection of Flashback Tapes, players discover Crash and Coco's origin story and experience Bandicoot training in Neo Cortex's Test Chambers – but the task won't be easy.
Outriders
A new trailer for People Can Fly's Outriders was shown during Opening Night Live.
Teardown
Prepare the perfect heist in this simulated and fully destructible voxel world. Tear down walls with vehicles or explosives to create shortcuts. Stack objects to reach higher. Use the environment to your advantage in the most creative way you can think of.
Teardown comes from Dennis Gustafsson.
https://youtu.be/YFRDP_ysz74
Little Nightmares II
We haven't seen anything on Little Nightmares II since the initial reveal at Gamescom 2019. Today, not only did we get a new trailer but confirmation the sequel was coming to next-gen consoles. Little Nightmares II is out on February 11, 2021.
Little Nightmares II is a suspense-adventure game in which you play as Mono, a young boy trapped in a world that has been distorted by the humming transmission of a distant tower. With Six, the girl in a yellow raincoat, as his guide, Mono sets out to discover the dark secrets of The Signal Tower and save Six from her terrible fate; but their journey will not be straightforward as Mono and Six will face a gallery of new threats from the terrible residents of this world.
Star Wars: Squadrons
In a fateful campaign set near the conclusion of the Galactic Civil War, learn what it means to be a pilot in a thrilling Star Wars single-player story. The New Republic fights for freedom. The Empire demands order. We need you to join the galaxy's finest. Star Wars: Squadrons is available on October 2, 2020, on PlayStation 4, Xbox One, Origin PC, Steam, Epic Games Store, and Virtual Reality on PlayStation 4 and PC with cross-play support.
Star Wars is coming to the Sims 4
More information here.
12 Minutes
Wow! Featuring Daisy Ridley, Willem Dafoe and James McAvoy, 12 Minutes is the new game from Annapurna Interactive. We got a new trailer that did an excellent job of getting me excited for the new game from the studio.
In this interactive thriller, a man's romantic evening with his wife is interrupted by a violent home invasion. The man tries to stop the attacker and gets knocked out only to immediately find himself back to the start of the evening, stuck in a time loop of 12 minutes. He must use the knowledge of what is about to happen to change the outcome and break the loop.
The characters are nameless throughout the experience; "the man" is voiced by James McAvoy, "the woman" is voiced by Daisy Ridley, and "the intruder" is voiced by Willem Dafoe.
Override 2: Super Mech League
Publisher Modus Games today announced Override 2: Super Mech League, a competitive arena brawler featuring hyper-powerful, towering mechs, is heading to PlayStation 5, Xbox Series X, PlayStation 4, Xbox One, Nintendo Switch, and PC in December 2020.
Override 2: Super Mech League kicks its exhilarating brawls into overdrive, bringing new characters into the fray to round out a 20-bot roster brimming with charming personalities in battle. State-of-the-art opponents aren't the only thing to worry about, though: arenas are speckled with game-changing hazards including pools of lava and geysers, so pilots would be wise to remain strategic while wreaking havoc on their surroundings.
Mafia Definitive Edition
Re-made from the ground up with a new game engine, an updated script, new cutscenes, additional gameplay sequences, and more, you'll rise through the ranks of the Italian Mafia during the Prohibition era of organized crime. After a run-in with the mob, cab driver Tommy Angelo is thrust into a deadly underworld. Initially uneasy about falling in with the Salieri crime family, Tommy soon finds that some rewards are too big to pass up.
Lemnis Gate
A new game from Ratloop Games out of Montreal, Canada. Geoff Keighley introduced us to Lemnis Gate. In Lemnis Gate, battles are fought out of the regular constraints of time. Reliving the past is the only way to change the future.
But you're not alone. Your team is packed with distinct heroes to choose from, all with unique weapons and abilities. Together, you will travel to exotic worlds scattered across the galaxy and defend your reality from extinction!
Lego Star Wars: The Skywalker Saga
Play through all nine Star Wars™ saga films in a brand-new LEGO video game unlike any other. Experience fun-filled adventures, whimsical humour, and the freedom to fully immerse yourself in the LEGO Star Wars universe like never before.
Struggling
Struggling is a physics-based co-op platformer with a twisted spin on teamwork. Control the arms of a squishy abomination and lead it through a deranged world.
Inventive co-op will test the firmest of friendships. Grab a partner and work together by controlling one arm each. When even walking takes a combined effort, communication is key to keeping your cool.
Age Of Empires 3 Definitive Edition
Return to adventure in Age of Empires III: Definitive Edition on October 15, 2020
Age of Empires III: Definitive Edition completes the celebration of one of the most beloved real-time strategy franchises in the definitive form with enhanced features and modernized gameplay.
Command mighty civilizations from across Europe and the Americas or jump to the battlefields of Asia in stunning 4K Ultra HD graphics and with a fully remastered soundtrack.
Now featuring two new game modes: Historical Battles and The Art of War Challenge Missions, including all previously released expansions and all 14 civilizations, plus two brand new civilizations—the Swedes and Inca.
Chorus
We got our first look at the gameplay of Chorvs (pronounced Chorus), which was revealed earlier this year. Take control of Nara, once the Circle's deadliest warrior, now their most wanted fugitive, on a quest to destroy the dark cult that created her. Unlock devastating weapons and mind-bending abilities in a true evolution of the space-combat shooter. Along with Forsaken, her sentient starfighter, explore ancient temples, engage in exhilarating zero-g combat, and venture beyond our waking reality.
Fall Guys Season 2
Geoff Keighley was giddy about Season 2 of Fall Guys and I totally get it. Since launching earlier this month, Fall Guys has been a huge hit for Mediatonic and Devolver Digital and yes, it has defined the summer for being one of the best games to release this year.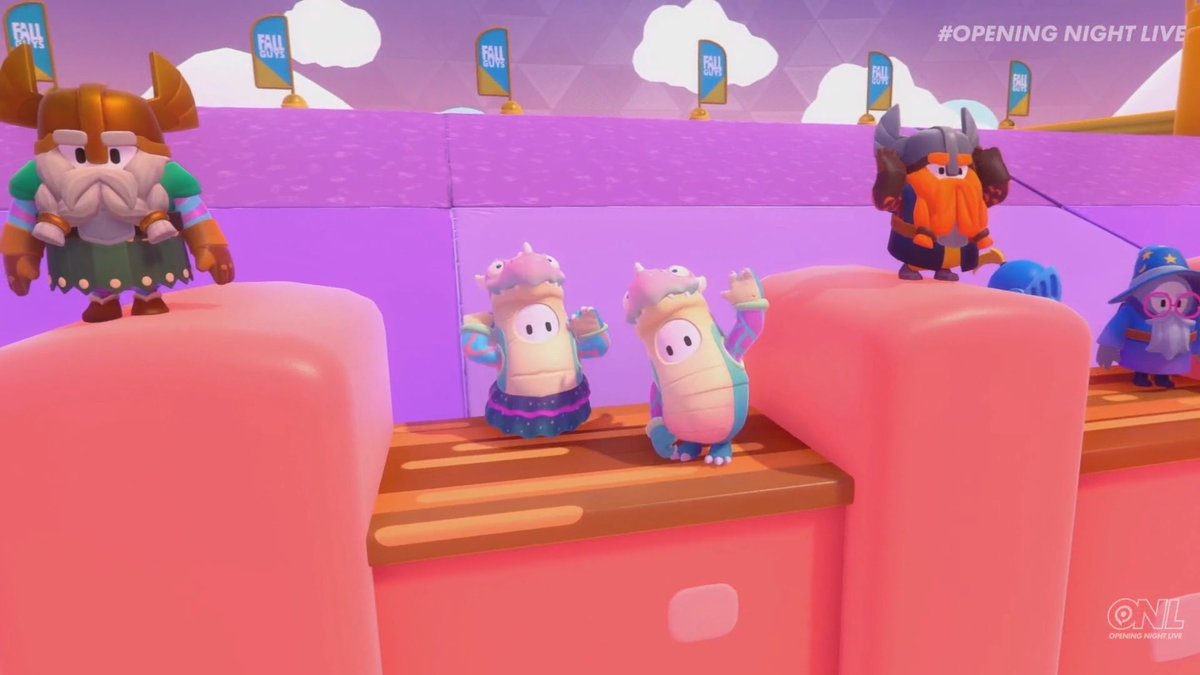 Fall Guys Season 2 will bring the dragon fire with feudal fortresses, knockout knights and pugilistic paladins among new additions coming this October.
Medal Of Honor: Above and Beyond
Medal of Honor: Above and Beyond is an action-packed and incredibly immersive VR experience set in World War II, where you step into the boots of an agent of the Office of Strategic Services (OSS) in war-torn Europe. A deep single-player campaign takes you through historic events on land, air, and sea, sabotaging Nazi bases, subverting enemy plans, aiding the French Resistance, and much, much more.
"With the Oculus Rift, we're bringing players into the Medal of Honor series in an entirely new way, with an experience that transports you back to Europe in the 1940s. It's the closest thing to a time machine you'll ever see."
Spellbreak
Spellbreak is a free-to-play battle royale game from Proletariat. Weave spectacular spell combinations, craft strategic builds, and master your environment as you dominate the Hollow Lands solo or with friends in a non-stop quest for survival.
Choose from six different classes, including the flame wall-casting Pyromancer, the lightning storm-controlling Conduit, and the ice-wielding Frostborn. Choose your talents and mix and match dozens of spells, sorceries, runes, and items to complement how you play.
Turrican Anthology
Strictly Limited Games and Factor 5 revealed Turrican Anthology Vol. I and Turrican Anthology Vol. II for PlayStation 4 and Switch during Opening Night Live.
For the first time in nearly 3 decades, Turrican returns to modern consoles in this ultimate anthology collection! Developed by legendary independent studio Factor 5 and scored by video game maestro Chris Huelsbeck, this action series redefined gaming and became one of the most acclaimed and celebrated fan-favourites on retro consoles, and now you can play them on your modern console.
Ratchet & Clank: Rift Apart
Ratchet and Clank find themselves at odds with their archnemesis, Dr. Nefarious. Only this time, he's equipped with the dangerous Dimensionator, a device with the power to travel to other dimensions. The duo fights their way through an army of hired Goons in Megalopolis until something happens and they are ripped apart. Where are they now?
In an interview that was held after the demo, we learned a few things about the PlayStation 5 exclusive. "What you won't be able to experience by just watching the video of the demo is the amazing DualSense wireless controller and 3D audio," says Marcus Smith, Creative Director. "You'll also see Ratchet's brand-new arsenal on full display in this demo video, which includes new weapons such as the Burst Pistol, Topiary Sprinkler, Shatterbomb, and the Enforcer. Thanks to the haptic feedback and adaptive triggers on the DualSense wireless controller, we are able to make each weapon in Ratchet's out-of-this-world arsenal feel unique and more powerful than ever," Smith continues to describe the DualSense abilities. "Take the Enforcer for example. This double-barrel shotgun has multiple fire modes. Pull the trigger halfway and it fires a single shot. Squeeze passed the first stage and you will unload a double-barrel blast instead! And with the 3D audio, you will be fully immersed – hearing everything above, below and surrounding you."
Ratchet & Clank: Rift Apart is due out "within the PlayStation 5 launch window."