Today's Indie World Showcase came and went in the blink of an eye. With dozens of stellar announcements and shadow drops, the Nintendo Switch is proving to be the best place to play video games once again.
To kick it off, Hades, the current game in development over at Supergiant Games, was revealed to be coming to the Switch this Fall.
Hypnospace Outlaw is a '90s internet simulator in which you scour Hypnospace's wide variety of weird and wonderful websites to hunt down wrongdoers, while also keeping an eye on your inbox, avoiding viruses and adware, and downloading a plethora of apps that may or may not be useful.
Spiritfarer took me by surprise earlier this summer when I played the demo on Steam. Developed by Thunder Lotus, Spiritfarer is a management game about dying. You play as Stella, who ferries dead souls. you'll build your boat, interact with the dead and help them move on into the afterlife. It is out today.
Garden Story has you playing as a grape, how cute is that? Unify a broken community as the newly-appointed Guardian of The Grove. Traverse a vibrant island to combat invasive Rot, inspire its inhabitants, and rebuild your home. You won't have to do this alone: fruity friends await, ready to lend a hand! Expect a launch in 2021.
Subnautica and Subnautica: Below Zero are both coming to Nintendo Switch in 2021. Descend into the depths of an alien underwater world filled with wonder and peril. Craft equipment, pilot submarines and out-smart wildlife to explore lush coral reefs, volcanoes, cave systems, and more – all while trying to survive.
Takeshi and Hiroshi, a former Apple Arcade exclusive is out today on Nintendo Switch. It tells the story of two brothers and their daily life. The 14-year-old Takeshi, a game designer to-be, is creating a game for his weak little brother Hiroshi who always wants to play the next chapter of the game as soon as possible. As the game is still in the making, Takeshi has to improvise and secretly plays some of the monster roles himself. It is Takeshi's goal to make Hiroshi really enjoy his game, let him meet big challenges, but preferably to prevent him from losing. He has to choose which monsters shall appear when and struggles more and more as the challenge for him as a game creator becomes increasingly difficult.
Raji: An Ancient Epic is out today on Nintendo Switch. A young girl named Raji has been chosen by the gods to stand against the demonic invasion of the human realm. Her destiny? To rescue her younger brother and face the demon lord Mahabalasura.
Bear and Breakfast is a laid-back management adventure game where you play as a well-meaning bear trying to run a B+B in the woods. Hank and his friends find an abandoned shack and, equipped with their teenage ingenuity, turn it into a money-making bed and breakfast scheme for unsuspecting tourists. As your business expands so do the mysteries of the forest, and Hank soon finds himself uncovering a plot deeper than the wilderness itself.
A Short Hike is from local developer adamgryu. Hike, climb, and soar through the peaceful mountainside landscapes of Hawk Peak Provincial Park as you make your way to the summit. It is also one of the best games I've played this year.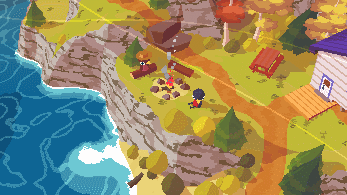 Card Shark is about playing your opponent's cards right. Move from the local card parlours to the King's table by building up your array of card tricks and using your ill-gotten gains to buy your way into some truly high-stakes games. Just make sure you don't get caught as your fellow gamesters do not take kindly to cheaters. Card Shark will make its opening gambit on Steam in 2021.

In Torchlight II, Novastraia is again under threat of invasion and it's up to you to defend against the Netherim and its allies.
Manifold Garden wants ou to reimagine the laws of physics. Rediscover gravity and explore a beautiful Escher-esque world of impossible architecture. Geometry repeats infinitely in every direction, and falling down leads you back to where you started. Manipulate gravity to change your perspective and see the world in new ways. Master the rules of the universe and restore a barren world with vegetation and life.
Evergate from Stone Lantern Games. I'd like to mention just how much it reminds me of Ori from Moon Studios. Wield your Soulflame, unleash extraordinary powers and dive into the touching story of two kindred spirits. Guide the child-like soul Ki on a journey through a beautiful and haunting afterlife in this unique 2D puzzle platformer.
To end the presentation, Nintendo confirmed several more games were coming to the Switch, including Haven, Going Under, The Red Lantern, Unrailed, Struggling,  Inmost, She Dreams Elsewhere, Grindstone, and Gonner2.
Oh, and Untitled Goose Game is getting multiplayer.