I don't think this should come as a shocker but this year has been a disaster. The ongoing pandemic has done a number on dozens of sectors and the gaming industry is not impervious to the effects of the virus.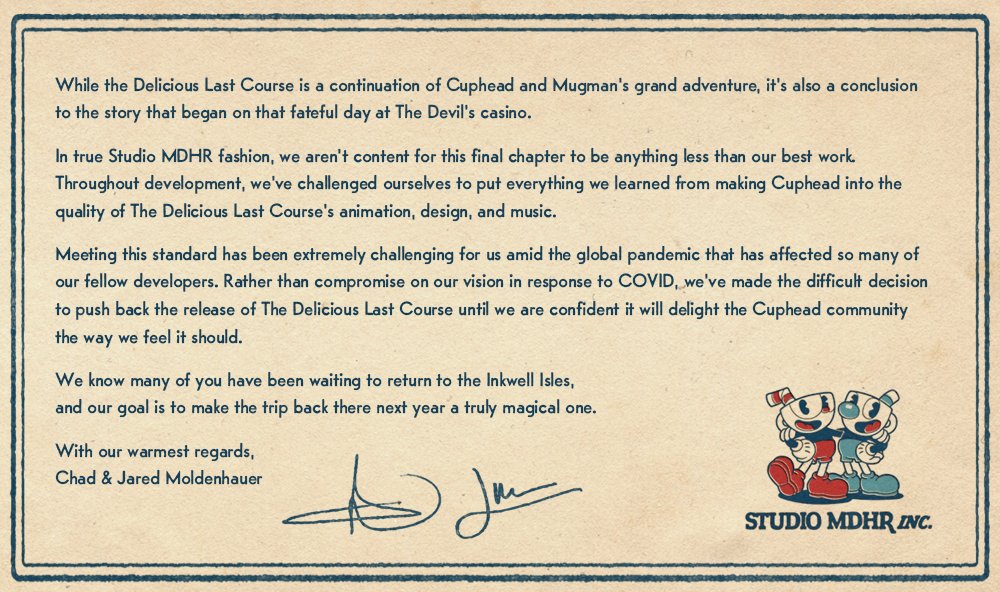 We're at the tail end of 2020 and at this point, it is unlikely that we'll see Studio MDHR's upcoming Cuphead DLC,  The Delicious Last Course. Yesterday, the studio confirmed the content would be delayed into 2021 to allow the studio the room to breathe and finish the content at an acceptable pace.
In the wake of the ongoing global pandemic affecting so many, we have made the difficult decision to push back the release of The Delicious Last Course. For our wonderful Cuphead community, we've prepared a letter from Studio MDHR founders Chad & Jared Moldenhauer to share more. pic.twitter.com/XiU57Wcn1y

— Studio MDHR (@StudioMDHR) November 25, 2020
Meeting this standard has been extremely challenging for us amid the global pandemic that has affected so many of our fellow developers," says Studio MDHR. "Rather than compromise on our vision in response to COVID, we've made the difficult decision to push back the release of "The Delicious Last Course" until we are confident it will delight the Cuphead community of the way we feel it should."
I firmly believe in delaying a title for the right reasons. This is going to make the product better, and since Cuphead is a beloved property, I want this to be the best it can be for when it launches.