Apple's iOS 17 debuted at WWDC 2023 today with many features and improvements. Shown on stage were several components, including updates to the Phone app, FaceTime, and Messages.
One big update to the iOS experience is Contact Posters, a new way to share information with others. The Contact Posters allow users to express themselves and accept incoming calls with a new look to them by choosing new treatments for photos and Memoji, contemporary typography and font colours.
Contact Posters
Live Voicemail
Next, Apple revealed Live Voicemail, a new way users can look at voicemails in real time as a voicemail is left for them. You can accept the call or send a message, and calls identified as spam by carriers do not appear as Live Voicemail and will be instantly declined. This feature uses Neural Engine, and Live Voicemail transcriptions are handled on-device and remain private.
FaceTime Gets Audio and Video Messages and More
FaceTime is getting several new features and now supports audio and video messages when a user calls someone who isn't available, allowing the end user to receive a news that can be viewed later.
Also, FaceTime now has expressive Reactions such as hearts, balloons, fireworks, laser beams, rain, and more. FaceTime now extends to Apple TV 4K. It is powered by Continuity Camera, allowing users to initiate a video call directly from their Appl TV or start a call on iPhone and then hand it off to Apple TV. With Centre Stage, you can even get the best angle wherever you are in the room.
Messages
The Messages app gets a significant update, including new stickers, new emoji stickers, and the ability to create a Live Sticker by lifting objects from photos. You can even add effects to Live Stickers, and a new keyboard drawer puts all your stickers in one place.
Messages have an expanded menu accessed by a simple tap, and Search is more powerful with clear filters, making it easier to search and narrow results down in Messages. Additionally, a new catch-up arrow indicates where you left off in a conversation and replying inline is easy as swiping on a text bubble. When sending an audio message, it's transcribed automatically so users can read it at the moment or listen later. If a user shares their location, it will update in real-time right in the conversation.
Users can also Check In with friends and family, a new feature to let loved ones know that you've arrived at a destination safely. It is as easy as enabling Check In with a family member and then having them automatically notified when the user arrives at their destination. Any information shared is end-to-end encrypted.
AirDrop
iOS 17 allows you to share information in a new way — NameDrop enables you to share contact information easily by bringing iPhones or an iPhone and Apple Watch together. You can also SharePlay music, movies, and games between iPhones.
AutoCorrect and Dictation
Autocorrect is getting a "comprehensive" update with a new transformer language model, state-of-the-art on-device machine learning language for word prediction – and improving user experience and accuracy. Apple is refreshing the existing design for better typing, and sentence-level auto corrections can fix more grammatical errors. Users will receive recommendations inline as they type, adding entire words or sentences. Dictation leverages a new speech recognition model to make it even more accurate.
StandBy
Apple's adding StandBy to iOS 17 allows new full-screen experience users to provide useful information when the iPhone is on its side and charging. This is an ideal function for when you're in bed, in the kitchen, and desk and can be personalized to include a clock, photos, and widgets (including Smart Stacks). There is also support for Live Activities, Siri, incoming calls, and more significant notifications. Charging with a MagSafe, StandBy remembers your preferred view and can be brought up anytime by tapping the screen. Users with an iPhone 14 Pro with an Always-On display always have it available.
Journal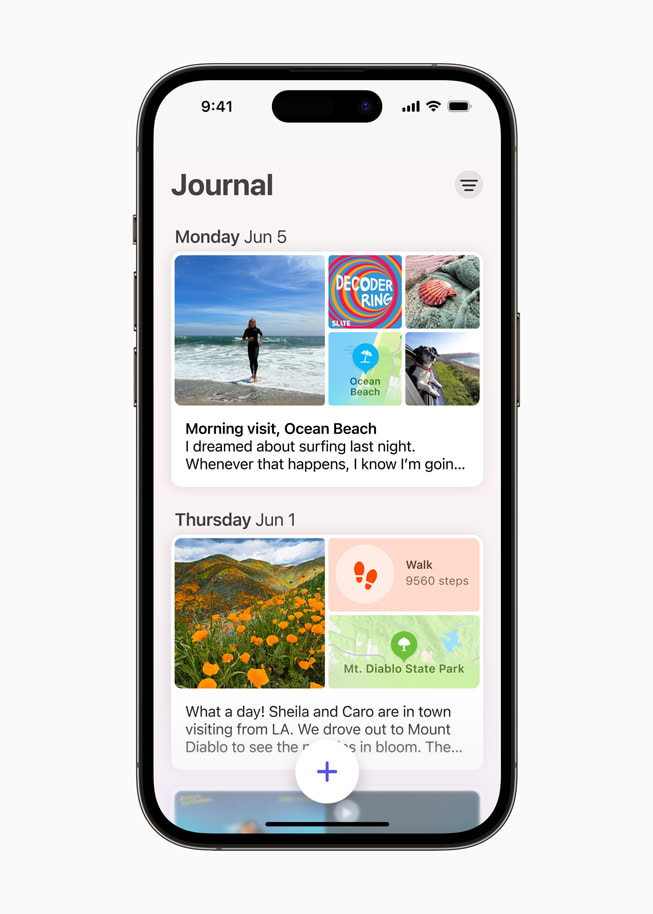 Journal is a new app for iPhone users to reflect and practice gratitude with journaling, a practice known to improve well-being. This feature uses on-device machine learning and offers suggestions to inspire a user's entries. There are also curated suggestions from your recent activities, including photos, people, places, workouts, and more, allowing it to be more accessible than ever to start journaling.